Saudações Geeks! O Gênios dos Quadrinhos está de volta e hoje ele é dedicado a outra figura lendária dos quadrinhos que criou dois dos primeiros e mais longínquos heróis da 9ª arte: o inesquecível Lee Falk.
Leon Harrison Gross nasceu em 28 de abril de 1911 em St. Louis, Missouri, onde passou sua infância e juventude. Filho de pais judeus, Leon nunca conheceu o pai Benjamin Gross que morreu quando ele era ainda um bebê. Entretanto, sua mãe, Eleanor Alina, se casaria com Albert Falk Epstein que se tornaria a figura paterna de Leon ao cria-lo como seu filho biológico. Anos depois, Leon adotaria o nome do meio de seu padrasto, Falk, e o apelido que recebera ainda criança, Lee, para criar seu nome artístico e pelo qual seria reconhecido em todo mundo: Lee Falk.
Desde muito cedo o pequeno Lee gostava de escrever, tendo sido no ensino médio o editor do jornal de sua escola e escrito diversos contos, poemas e artigos em sua época de faculdade. Isso o levou a criar ainda muito jovem, com apenas 19 anos, um personagem que anos depois se tornaria um dos mais populares dos quadrinhos: Mandrake, O Magico. Falk esboçou as primeiras artes do Mandrake e, segundo ele próprio recordava, sempre que perguntavam por que ele desenhava Mandrake tão parecido com ele, Lee Falk respondia:
"Bem, é claro que eu o desenhava parecido comigo. Eu estava sozinho em um quarto com um espelho quando eu o desenhei!" – Lee Falk
Após se formar na Universidade de Illinois, Falk conseguiu um emprego como redator em uma agência de publicidade e escreveu e produziu programas de rádio para uma emissora de St Louis. Nessa época, Lee conheceu o desenhista Phil Davis. Junto com Davis, Lee finalizou a criação de Mandrake, dando o visual definitivo para o personagem e estabelecendo seu background.
Percebendo que tinha em mãos um personagem com grande potencial, Falk resolveu apostar em uma nova mídia que crescia cade vez mais, os quadrinhos, e decidiu apresentar sua criação para uma das maiores empresas que produziam historias em quadrinhos na época: a King Feature Syndicate, a mesma empresa que produzia as tiras de Flash Gordon de Alex Raymond.
Mandrake, O Mago
Naquela época, o inicio dos anos 30, quando os EUA ainda estavam mergulhados na Grande Depressão dezenas de jovens desempregados levavam seus desenhos e suas histórias para a King Feature na esperança de comprarem suas idéias e conseguirem um trabalho, mas todos acabavam recebendo a mesma resposta: deixar seu material com a secretária e esperar que a empresa entre em contato, o que geralmente nunca acontecia. Esperto, Lee Falk decidiu não passar por isso e usou toda a sua boa aparência e sua voz profunda e teatral para convencer a secretária a mostrar ele mesmo seu material de Mandrake para o editor de quadrinhos da King Features Syndicate.
Como Lee esperava, o pessoal da King Feature viu em Mandrake o mesmo potencial que Lee enxergava e comprou o personagem, colocando Lee Falk e Phil Davis como responsáveis pelas histórias: Lee Falk ficou encarregado dos roteiros enquanto Davis fazia os desenhos. Assim, no dia 11 de junho de 1934 foi publicada a primeira tira diária de Mandrake, The Magician (Mandrake, O Mago no Brasil) que no ano seguinte seria publicada em tiras coloridas nos suplementos dominicais.
Mandrake, O Mago: A primeira marca de Lee Falk nos quadrinhos
As histórias em quadrinhos escritas por Lee e desenhada por Davis contavam as aventuras de Mandrake, um homem com verdadeiros poderes mágicos que os usa para enfrentar criminosos sempre acompanhado de seu fiel ajudante e amigo Lothar, um enorme rei de tribos africanas que Mandrake conheceu em suas viagens, e por seu interesse amoroso, a princesa Narda da nação européia de Cockaigne. Para disfarçar seus poderes, Mandrake se apresentava publicamente como um magico de espetáculos e vivia em Xanadu, uma mansão high-tech localizada no alto de um monte no estado de Nova York.
O principal poder de Mandrake era sua técnica de hipnose que quando usada fazia seus inimigos entrarem em transe e verem ilusões. Outras habilidades de Mandrake incluíam invisibilidade, metamorfose, levitação e teletransporte e sua cartola, capa e varinha possuíam propriedades mágicas. Ao longo dos anos, Mandrake usou seus poderes e suas ferramentas para combate uma variedade de vilões como gangsters, cientistas loucos, extra-terrestres, seres de outras dimensões e seu grande rival, o Kobra, mestre das artes misticas com poderes que rivalizavam com os do herói.
O personagem evocava a essência dos mágicos de vaudeville que faziam espetáculos itinerantes pelos EUA muito populares nos anos 1880-1920 e marcaram muito a vida de Lee Falk que assistiu e se maravilhou com muitos desses espetáculos em St.Louis durante sua infância e juventude e utilizou muito desses elementos como matéria-prima para criar as aventuras do mago. Além disso, Mandrake reunia todas as características que fascinavam o publico americano nos anos 30, o do herói de aventuras exóticas que o cinema da época popularizara: elegante, viril, enigmático, cavalheiresco e pronto pra ação. Com suas histórias, Lee Falk levava o glamour de Hollywood para os quadrinhos.
Mandrake: O primeiro herói "hollywoodiano" dos quadrinhos
Assim como Principe Valente de Hal Foster e Flash Gordon de Alex Raymond, Mandrake se tornou um grande sucesso e fez de Lee Falk um dos nomes mais importantes dentro da King Feature Syndicate. Com tanto prestígio, não foi difícil para Lee vender sua segunda criação que, assim como Mandrake, seria outro marco nos quadrinhos: The Phantom, conhecido no Brasil como O Fantasma.
O Fantasma.
Quase dois anos após a estréia de Mandrake, a segunda criação de Lee Falk chegava ao publico. O Fantasma estreou nas tiras diárias de jornais no dia 17 de fevereiro de 1936 e passou a ser publicado também em tiras coloridas dominicais a partir de 1939. O Fantasma nasceu do fascínio de Falk por mitos e lendas, como El Cid e Rei Arthur, heróis do folclore grego e nórdico e personagens da literatura como o Tarzan de Edgar Rice Burroghs e o Mogli de "O Livro da Selva" de Rudyard Kipling. Para ajuda-lo com as historias, Falk chamou o desenhista Ray Moore para fazer os desenhos das tiras enquanto Falk escrevia os roteiros.
As tiras de "O Fantasma" por Falk e Moore
As tiras de O Fantasma contavam as aventuras de Christopher "Kit" Walker, que combate o crime utilizando uma mascara, um uniforme colante roxo, e a alcunha de "Fantasma". Tendo como base a "Ilha da Caveira", localizada no coração das selvas de Bengala, o Fantasma combatia a ralé da espécie humana: piratas, contrabandistas, salteadores e outros tipos de criminosos sempre com a as selvas africanas e a tribo de pigmeus Bandar (onde vive o chefe Gurar, melhor amigo do Fantasma) servindo de pano de fundo das histórias.
Entretanto, mais do que só um guerreiro fantasiado, Fantasma carrega e dá prosseguimento a um legado e tradição iniciado no século 16 por seu antepassado, também chamado Christopher Walker, que diante da caveira do pai assassinado jurou dedicar sua vida e a vida de seus filhos, ao combate e destruição da crueldade e vilania. Assim nasceu a lenda do Fantasma, também chamado pelos nativos de "O Espirito Que Anda" e "O Homem Que Não Pode Morrer" graças aos membros da família Walker que assumiram o manto e a persona do Fantasma a cada geração e proferiram o mesmo juramento do primeiro Christopher Walker:
"Juro devotar minha vida à destruição da pirataria, ganância, crueldade e injustiça em todas as suas formas, e meus filhos e seus filhos devem me suceder" – O Fantasma
A origem do mito criada por Lee Falk
Kit Walker é assim o vigésimo primeiro Fantasma. Diferente de Mandrake (e outros heróis fantasiados), o Fantasma era um herói que não possuía nenhum poder ou habilidade sobrenatural, fazendo uso de sua força, inteligência e astúcia, além da crença que os nativos e os criminosos supersticiosos tinham em sua imortalidade, para superar seus inimigos. O personagem fazia uso de duas pistolas .45, alem de contar com ajuda de seus fiéis companheiros: o lobo da montanha Devil, seu cavalo Hero, seu falcão treinado Fraka e a Patrulha da Selva, um grupo de guerreiros formados séculos atrás pelo sexto Fantasma.
As aventuras do Fantasma fizeram um sucesso estrondoso, tornando-o o personagem mais conhecido e popular de Lee Falk. Além das histórias primorosamente escritas por Falk, contribuía para o sucesso a arte excelente de Moore com seu traço misterioso, estilo filme noir, repleto de sombras sugestivas, cenas noturnas e contornos suaves.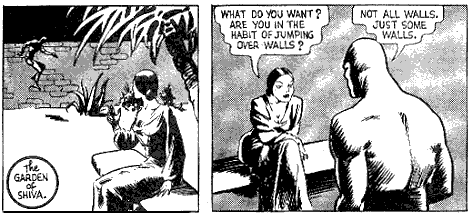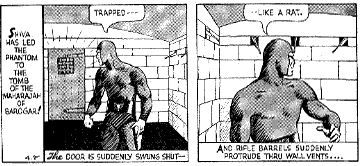 O traço de Ray Moore tornou as histórias de Falk ainda mais marcantes
A parceria Falk/Moore, infelizmente, foi encerrada quando o desenhista foi convocado em 1942 para lutar na Segunda Guerra. Ela poderia ter sido retomada, mas um grave ferimento sofrido por Moore no campo de batalha o impossibilitou permanentemente de desenhar. Ele acabou substituído por Winsor McCoy. A parceria de Falk com Phil Davis em Mandrake seria mais longa, durando até a morte do desenhista em 1964. Lee Falk convidou Fred Fredericks para desenhar Mandrake após a morte de Davis.
A importância de Lee Falk e suas criações para os quadrinhos é tamanha que chega a ser difícil mensurar. Historiadores e especialistas discutem que Fantasma e Mandrake são a gênese daquele que é talvez o gênero mais popular de quadrinhos: as historias de heróis uniformizados, que explodiria de vez com o surgimento do Superman de Siegel e Shuster. O Fantasma foi o primeiro herói uniformizado e a malha colante colorida e a mascara, introduzidas por ele, se tornaram elementos-base do visual de praticamente todos os super-heróis que viriam depois. O Fantasma também foi o primeiro a apresentar os famosos "olhos brancos" atrás da mascara, outro elemento presente em vários heróis mascarados, cujo exemplo mais famoso talvez seja o Batman.
O "Espirito Que Anda" foi uma das inspirações para a concepção do Homem-Morcego
Mandrake estabeleceu de vez as historias de magia e misticismo nos quadrinhos e se tornou o protótipo e inspiração para os futuros mágicos que surgiriam nos anos e décadas seguintes como o  mago Zatara, personagem da DC Comics criado por Fred Guardineer (e que é o pai de uma das personagens mais populares da editora, a grande Zatanna) e até mesmo o grande mago supremo da Marvel Comics, o Doutor Estranho, criado por Stan Lee e Steve Ditko.
Mandrake e Zatara: Qualquer semelhança não é mera coincidência 
Mandrake e Fantasma também foram uns dos primeiros personagens a transcenderem os quadrinhos e ir parar em outras mídias: em 1939, 5 anos após a publicação da primeira tira, Mandrake chegaria nos cinemas com uma série de 12 episódios com Warren Hull no papel principal e Al Kikume como o ajudante Lothar. Em 1941, Mandrake ganharia um programa de rádio que durou até 1942 e na década de 80 o personagem chegaria à tv na série animada Defensores da Terra ao lado de Lothar, Flash Gordon e Fantasma.
 Falando no Fantasma, além dos quadrinhos e da série animada ao lado de Mandrake, o personagem chegaria aos cinemas em uma mini-série de 15 episódios no ano de 1943 (estrelado por Tom Tyler como Fantasma) e nos 70 chegaria às livrarias graças à uma série de livros escritos pelo próprio Lee Falk e publicados pela Avon Publications que seriam novelizações das historias em quadrinhos do personagem. Por fim, "O Espirito Que Anda" ganharia um longa-metragem live-action em 1996 com Billy Zane como Fantasma e Catherine Zeta-Jones no elenco (mas os fãs preferem esquecer que esse filme existe).
Mandrake e Fantasma também romperam as fronteiras dos EUA sendo traduzidos e publicados em diversos países e tornando Lee Falk conhecido e admirado em todo o mundo. Falk esteve no Brasil em 1970 durante uma exposição de quadrinhos organizada pela Escola Pan-americana de Arte e realizada no MASP (Museu de Arte de São Paulo). Nesta ocasião, declarou em entrevista que ao se deparar com o sucesso internacional de suas criações, sentiu-se confuso e intrigado por escrever histórias lidas por uma multidão de pessoas de todas as idades e de várias culturas diferentes e conflitantes chegando à conclusão que isso devia ter acontecido por suas criações possuírem algum elemento essencial que superava estas diferenças e que deveria ser fiel a esse princípio.
"E constatei que milhões de pessoas – em todo o mundo – diariamente gostavam das mesmas coisas que eu gostava" – Lee Falk.
Em 1971 no salão de Lucca, na Itália, Falk recebeu um troféu pela contribuição que seu trabalho trouxe aos quadrinhos, um reconhecimento raro e importante visto que por muito tempo a comunidade de quadrinhos privilegiou mais as realizações de artistas gráficos em detrimento ao trabalho de pessoas como Lee Falk, que era um artista da palavra. Mas o caso mais ilustre de admiração pelo trabalho de Falk, sem sombra de dúvida, veio do diretor Federico Fellini. O cineasta italiano, um dos maiores gênios do cinema, era fã declarado de Lee Falk  a quem considerava ser seu "Mestre" e por muito tempo sonhou em fazer um filme com seus personagens de quadrinhos, chegando inclusive a produzir um ensaio de fotos  com o ator Marcelo Mastroianni e a atriz Claudia Cardinalle, grandes nomes do cinema italiano, vestidos como Mandrake e Princesa Narda.
O grande ator Mastroianni como Mandrake por Fellini: a paixão de um gênio por outro gênio.
Apaixonado pela palavra escrita, Falk encontrou uma nova paixão a partir dos anos 50: o teatro. Ele produziu pelo menos 300 peças e dirigiu mais de 100. Falk também trabalhou como dramaturgo escrevendo 12 peças autorais, entre as quais duas foram os musicais Happy Dollar e Mandrake the Magician (baseado em sua própria criação, obviamente) e chegou a dirigir atores de renome com Marlon Brando, Charlton Heston, Paul Newman, Chico Marx e Ethel Waters.
Mesmo com sua carreira teatral, Lee Falk continuou responsável por Mandrake e pelo Fantasma escrevendo por décadas as histórias dos personagens (enquanto vários desenhistas passavam pelos personagens) até seus últimos dias de vida. Mesmo quando já estava no hospital respirando com ajuda de mascara de oxigênio, Falk ditava seus roteiros para sua esposa,  Elizabeth Moxley, passar para o papel. Lee Falk faleceu no dia 13 de março de 1999, aos 88 anos. Elizabeth terminou de escrever a ultima história do Fantasma criada por Lee que estava inacabada após sua morte.
A ultima homenagem de Fantasma e Mandrake ao seu criador.
Dizer que Lee Falk foi um gênio dos quadrinhos não é apenas óbvio como também redundante. Por mais de seis décadas, Falk cuidou de seus personagens os alçando a categoria de verdadeiros ícones da nona arte. Hoje, mais de cem anos após seu nascimento, seu legado continua vivo e sendo um dos mais importantes e admirados pelos fãs de todo o mundo.
Lee Falk, você viverá para sempre!
É isso aí Geeks! Espero que tenham curtido saber mais sobre Lee Falk. Até o próximo Gênios dos Quadrinhos. Grande abraço!