Saudações Geeks! Mais um Mestre do Cinema e hoje ele é dedicado ao "inventor" do cinema blockbuster, considerado um dos mais talentosos e renomados cineastas de todos os tempos que marcou a infância (e a vida) de milhares de pessoas ao redor do mundo: Steven Spielberg.
Steven Spielberg
Steven Allan Spielberg nasceu em Cincinnati, Ohio, em 18 de dezembro de 1946. Desde muito cedo, Steven mostrava gosto por filmagens utilizando, como muitos outros cineastas amadores, uma câmera de filmes de 8 mm (a famosa Super-8) para fazer seus filmes caseiros. Seu primeiro filme caseiro, então com 12 anos de idade, foi um acidente de trem usando seus trens de brinquedo e sendo o irmão mais velho de três irmãs, Spielberg frequentemente as usava como cobaias em suas películas amadoras.
Aos 13 anos, Spielberg venceu seu primeiro concurso de curta-metragem com o filme Fuga do Inferno, um curta de 40 minutos que retratava fatos sobre a guerra. Aos 16 fez seu primeiro longa em Super-8: Fireflght, exibido em uma sala de teatro alugada por seu pai. Em 1968, aos 21 anos, estreou profissionalmente com o curta-metragem Amblin que foi exibido no Festival de Atlanta e premiado no Festival de Veneza. Após Amblin (filme este que batizaria a futura produtora criada pelo cineasta), Steven Spielberg entrou de vez na industria cinematográfica ao assinar um contrato com a Universal Studios.
Seu primeiro filme na Universal, Encurralado (1971), foi lançado direto para televisão mas fez tanto sucesso que depois foi lançado nos cinemas. Seu segundo filme Louca Escapada, dessa vez lançado diretamente nos cinemas, recebeu bons elogios da crítica mas foi um fracasso de bilheteria. Foi em seu terceiro filme na Universal, o clássico Tubarão, que sua carreira deslanchou e Steven Spielberg passou a ser visto como um dos mais talentosos diretores de Hollywood.
Diversos filmes de Spielberg, principalmente os filmes de aventuras como E.T – O Extraterrestre e Jurassic Park, marcaram a infância de milhares de pessoas, principalmente aquelas que viveram os anos 80 e 90. Mais do que isso, Steven Spielberg também se provou um grande diretor de filmes com temáticas mais "sérias", como filmes históricos e de guerra, em obras como A Cor Purpura, A Lista de Schindler, O Resgate do Soldado Ryan, Amistad e Lincoln. Então, como de praxe já desta série de posts, confiram mais uma "mini-lista" com três filmes recomendados para aqueles que querem conhecer e se familiarizar com a obra deste grande mestre do cinema:
1 – Tubarão (Jaws, 1975)
Tubarão é um filme de 1975 dirigido por Steven Spielberg e baseado no livro de mesmo nome escrito por Peter Benchley. O filme se passa na pequena cidade praiana de Amity, onde os banhistas começam a ser atacados (e mortos) por um enorme e feroz tubarão que passa a rondar aquelas águas, colocando pânico em toda a população. Isso da inicio a uma verdadeira caçada ao tubarão e faz com que Brody (Roy Scheider), o xerife da cidade, peça ajuda ao ictiologista Matt Hooper (Richard Dreyfuss) e ao insano pescador Quint (Robert Shaw) para capturar a ameaça. Juntos, os três embarcam em uma caçada que irá se revelar bem mais perigosa e mortal do que imaginavam.
Tubarão é um dos mais icônicos e clássicos filmes de Hollywood e sucesso absoluto de publico e critica. O filme faturou mais de US$ 470 milhões, a maior bilheteria da historia do cinema até então, foi premiado com o Oscar de melhor trilha sonora, melhor montagem e melhor som alem de ser indicado ao Oscar de melhor filme. O filme apresentou um genuíno terror psicológico, através da "sugestão" da presença do tubarão durante a maior parte do filme, e da marcante trilha composta por John Williams, que Spielberg inicialmente havia detestado e dizia ser "uma verdadeira piada", que fez com que muitos ficassem tensos e com verdadeiro medo de irem à praia após verem o filme. Um feito considerando os inúmeros problemas pela qual a conturbada produção do filme passou.
Tubarão também inovou com uma grande e feroz (desculpe) campanha de marketing com comerciais para televisão e rádio e cartazes espalhados pelas cidades (que popularizaram o slogan do filme "Não vá a praia") e que contribuiu e muito para a curiosidade do publico e levou multidões aos cinemas. Mais do que um grande filme, Steven Spielberg com Tubarão mudou para sempre cinema, para o bem ou para o mal, inaugurando uma nova era: a era dos blockbusters.
2 – Contatos Imediatos do Terceiro Grau (Close Encounters of the Third Kind, 1977)
Lançado em 1977, Contatos Imediatos do Terceiro Grau é uma ficção cientifica centrada no aparecimento de O.V.N.I's (Objeto Voador Não Identificado). O cientista francês Claude Lacombe (François Truffaut, ele mesmo) e o americano David Laughlin (Bob Balaban) investigam as atividades alienígenas em  todo mundo, o que os leva a descobrir um esquadrão inteiro de aviões desaparecido desde a Segunda Guerra e uma misteriosa melodia de cinco notas em escala maior que testemunhas afirmam ser transmitidas pelos aliens.
Paralelamente, o eletricista Roy Neary (Richard Dreyffus) passa por um contato imediato do terceiro grau com três naves que são perseguidas pela policia. Roy fica obcecado por OVNIs e pela imagem de uma montanha que surge em sua mente. Roy também conhece Gillian (Melinda Dillion) e seu filho de três anos Barry (Carey Guffey), que também tiveram contato com as naves. Posteriormente, Barry é abduzido por uma das naves e Roy e Gillian se juntarão para descobrir o segredo dos aliens, que o governo tenta a todo custo esconder.
Em Contatos Imediatos do Terceiro Grau, Spielberg aborda nosso medo e fascínio pelo desconhecido criando uma história misteriosa ao esconder o elemento chave do filme até seu derradeiro final e assim passar uma imagem sombria desse elemento por todo o filme, da mesma forma que o diretor havia feito em Tubarão. O filme também nos brinda com efeitos especiais incríveis que sobreviveram bem ao teste do tempo e nos enchem os olhos mesmo vendo o filme nos dias de hoje.
Contatos Imediatos do Terceiro Grau rendeu a Spielberg sua primeira indicação ao Oscar de melhor diretor, além de ter faturado a estatueta na categoria de melhor fotografia e é considerado até hoje um dos grandes clássicos de ficção científica do cinema.
3 – Trilogia Indiana Jones: Raiders Of The Lost Ark (1981) Temple Of Doom (1984); Last Crusade (1989)
Dando uma leve "trapaceada", a terceira recomendação não é um, mas três filmes de Spielberg, os três filmes do maior arqueólogo do cinema: Henry Jones Jr., o Indiana Jones (e sim, só esses três porque é melhor esquecer que aquele quarto filme existe).
Os filmes são protagonizados pelo arqueólogo Indiana Jones – interpretado pelo grande Harrison "Mito" Ford – um arqueólogo e professor que quando não está ensinando seus alunos, viaja pelo mundo em busca dos mais raros e valiosos artefatos da história tendo sempre que passar pelos mais variados perigos e enfrentar uma série de vilões que estão sempre em busca dos mesmo artefatos do Dr. Jones, que para isso está sempre acompanhado de seu inseparável chicote e seu (mais inseparável ainda) chapéu.
No primeiro filme, Os Caçadores da Arca Perdida, Indiana enfrenta os nazistas para impedir que eles tomem posse da Arca da Aliança, a urna usada para guardar as tábuas da lei que continham os Dez Mandamentos. Em Indiana Jones e O Templo da Perdição, Indiana enfrenta uma antiga sociedade secreta para recuperar o ídolo roubado de uma humilde tribo na Índia e no terceiro filme – A Ultima Cruzada – Indiana Jones, acompanhado dessa vez de seu pai (interpretado pelo também mito Sir Sean Connery), novamente disputa corrida com os nazistas para ser o primeiro a alcançar o mítico Santo Graal, o cálice usado na ultima ceia e que colheu o sangue de Cristo após a crucificação.
Indiana Jones foi uma criação dos grandes amigos Steven Spielberg e George Lucas em homenagem aos heróis de séries e filmes e da literatura pulp dos anos 30. Spielberg dirigiu todos os filmes do personagem. E seja pelo fascínio provocado pelo uso de elementos míticos da cultura judaico-cristã (Arca da Aliança, Santo Graal) ou pelo charme e carisma que Harrison Ford emprestou ao personagem, o fato é que a saga de Indiana Jones é considerada por muitos como a melhor e mais divertida aventura feita no cinema, que fez com que muitos tivessem o sonho de seguir carreira no mundo da arqueologia (e desistissem desse sonho depois de descobrirem que arqueologia não é tão emocionante e aventuresca como Dr. Jones fazia parecer).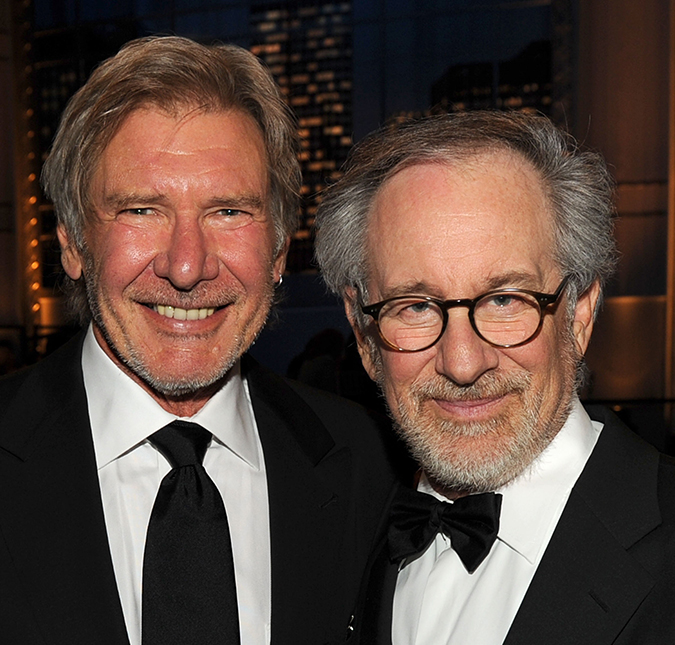 Muitos mitos pra pouca foto.
É isso aí Geeks! Espero que tenham gostado de mais um post e não esqueçam de comentar o que vocês acham do grande Steven Spielberg e quais seus filmes favoritos dele. Grande abraço e até a próxima.