Guardiões da Galáxia Vol.1 era uma aposta arriscada por conta da enorme responsabilidade que o filme teria dentro do UCM, com a falta do grupo cósmico Quarteto Fantástico e todo o seu ''universo'' pertencendo a Fox , a Marvel Studios teria que  apresentar uma nova equipe de heróis sem superpoderes e, de quebra, estabelecer com clareza o universo cósmico da editora. Eis que estamos em 2017 e Guardiões da Galáxia vol. 2, voltou com tudo.
A trama se passa algum tempo após o anterior, com o grupo formado pelo Senhor das Estrelas, Peter Quill (Chris Pratt), Gamora (Zoe Saldana), Drax (Dave Bautista), Rocket (Bradley Cooper), e o adorável Baby Groot (Vin Diesel) aproveitando a reputação favorável de sua aventura em salvar Xandar e a Tropa Nova para coletarem recompensas ao redor da galáxia. Quando um serviço para a raça batizada de Soberanos acaba terminando em um mal entendido, os Guardiões são postos sob a mira da impiedosa Ayesha (Elizabeth Debicki), que coloca os Saqueadores (liderados pelo Yondu de Michael Rooker) em seu encalce. Para complicar ainda mais, o misterioso Ego (Kurt Russell) encontra o grupo e revela-se como o pai perdido de Peter Quill.
A cena de abertura começa em Missouri em 1980, mostrando Ego e Meredith Quill (Laura Haddock) ainda jovens e apaixonados. Mais uma vez a Marvel Studios aposta em técnica  de rejuvenescimento por CGI , desta vez com o ator Kurt Russell, sendo a mais impressionante até agora, mais do que o ator Robert Downey Jr.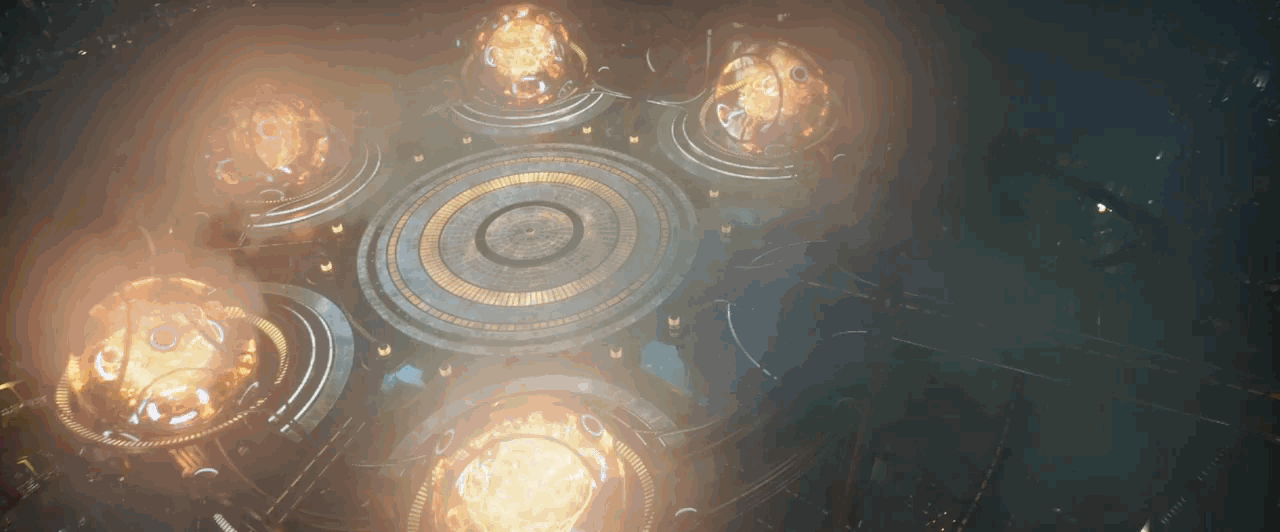 O primeiro ato tem um tom mais heroico e épico, o humor está mais do que extrapolado na sequencia podendo agradar alguns ou não. Os Guardiões da Galáxia possuem permissão para matar assassinos, mas apenas eles, e o filme sabe utilizar isso sem que os nossos heróis sejam assassinos frios.
Todos esses personagens têm uma distribuição favorável, sendo capaz de criar um equilíbrio perfeito entre suas histórias e núcleos narrativos. Ego realmente demonstrando um apego por Peter e também por seu tempo na Terra. Então, aprendemos todo o passado do personagem e sua natureza realmente grandiosa e impressionante, indo mais longe na exploração do Universo Cósmico da Marvel do que qualquer outro filme da editora até então.
Com o auxílio do diretor de fotografia Henry Abraham, e também pelo uso de um novo modelo da potente câmera RED e um trabalho mais evidente de color grading, Guardiões da Galáxia Vol. 2 é simplesmente maravilhoso de se olhar. As cores aqui são muito mais vibrantes e vivas do que nos longas anteriores da Marvel.
O diretor James Gunn ganhou maior liberdade aqui, construindo verdadeiras loucuras, e que marcam o universo cósmico Marvel. Gunn acertou novamente em cheio na trilha sonora.Se já parecia impossível botar defeito na Awesome Mix Vol. 1, o volume 2 consolida o excelente gosto musical do diretor.
 O visual de Ego, o "Planeta Vivo", que no filme é um celestial (ele mesmo revela isso), o planeta visto do espaço é bem semelhante aos quadrinhos, com uma "cara de bigode", e a superfície é linda, cheia de paisagens incríveis, um paraíso para todos os efeitos, perfeito demais que logo nos leva a desconfiança,e nos brinda com um dos melhores vilões já apresentados no UCM. Mantis, vivida por Pom Klementieff, uma empata insetóide que funciona como uma ajudante de Ego e a ponte necessária com os demais heróis, já que Peter é monopolizado pelo pai. O longa também apresenta os "soberanos", raça de Ayesha , que se autoproclamam como uma raça perfeita, apresenta outros grupos saqueadores (além do grupo de Yondu), um destes grupos é liderado por Stakar – Starhawk (Sylvester Stallone), em seu grupo, como ele mesmo foi, temos outros personagens que já foram de formações de Guardiões da Galáxia como Martinex (um alienígena feito de diamante, interpretado por Michael Rosenbaum ).
Yondu Udonta um dia fizera parte de uma outra equipe de Saqueadores, sendo expulso do grupo. James Gunn conseguiu trabalhar justamente muito bem com ele. Sua personalidade dura com Peter já demonstrava algo mais complexo , quase que como uma relação distorcida de pai e filho realmente, na continuação, foi muito bem explorado, tornando o sacrifício do personagem, ao final, algo que tem valor e não apenas uma morte qualquer que será esquecida pelo publico.
Acompanhamos o crescimento de Groot está acontecendo, isso fica notável em uma das cenas pós créditos, no qual vemos Peter Quill abrir a porta de seu quarto para revelar um Groot com brotamentos e galhos ao redor das paredes: sim, é o Teen Groot ( que devemos ver no próximo filme confirmado). Além de vermos o protagonista dar uma bronca pela bagunça, vemos a voz típica de um adolescente na puberdade em nosso querido Groot, enquanto resmunga e segue jogando seu videogame portátil.
Nós temos um fan service muito bem vindo no filme, marcando a primeira vez que temos duas cameos de Stan Lee em um filme da Marvel Studios, pasmem, conhecido como Vigias (Os Vigias se dedicam a observar os acontecimentos do Multiverso Marvel). Porém, ele fica frustrado quando os seres vão embora e ignoram seu pedido de carona.
Guardiões da Galáxia Vol. 2  consegue manter-se no mesmo nível do original, enquanto explora caminhos diferenciados. Realmente surpreende por mostrar muito elementos do universo Marvel, os Celestiais, os Soberanos, os Saqueadores, a Terra, os Vigias. Então podemos esperar muita coisa desse universo cósmico. Esse lado cósmico da Marvel é cheio de potenciais surpresas que com toda certeza, serão trabalhados pelo estúdio em seu futuro pós-Vingadores 4.
A principal cena pós-créditos, nos apresenta o "casulo de Adam Warlock", que será a criação suprema para derrotar os Guardiões da Galáxia no Vol. 3 . Finalmente o personagem mais importante de Desafio Infinito das HQs foi introduzido!
Guardiões da Galáxia Vol. 2 (Guardians of the Galaxy Vol. 2) – EUA, 2017 Duração: 137 minutos.
Direção: James Gunn

Roteiro: James Gunn

Música: Tyler Bates

Cinematografia: Henry Braham.

Elenco: Chris Pratt, Zoe Saldana, Dave Bautista, Vin Diesel, Bradley Cooper, Michael Rooker, Karen Gillan, Pom Klementieff, Kurt Russell, Elizabeth Debicki, Sean Gunn, Sylvester Stallone, Michael Rosenbaum, Chris Sullivan, Miley Cyrus, Tommy Flanagan, Ving Rhames, Michelle Yeoh.