A lista contém spoilers inofensivos
Apesar de ser um filme bem decepcionante para a maior parte dos fãs, Esquadrão Suicida contém referências bem legais ligadas ao Universo DC e até mesmo a outros filmes e pessoas da vida real. Com isso, apresento todos os easter eggs e referências do filme dirigido por David Ayer.
Logotipos DC e Warner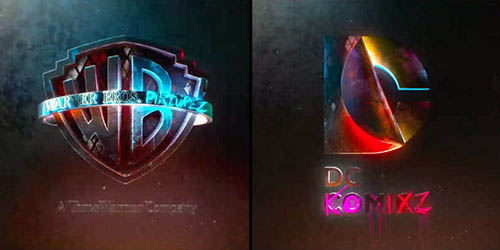 Os logotipos da Warner e da DC ganharam "decoração" temática do Esquadrão Suicida, com as cores usadas no marketing. É sempre bacana ver esse cuidado nos filmes.
Batman
O Homem Morcego dá as caras nas sequências de flashback contando a origem do Pistoleiro e da Arlequina,tudo isso na cena de abertura. O próprio Bruce Wayne aparece em uma cena pós crédito, conversando com Amanda Waller.
Flash
O velocista escarlate aparece na sequência de flashback do Capitão Bumerangue, prendendo o vilão. Nos revelando já uma ligação direta com o herói.
Belle Reve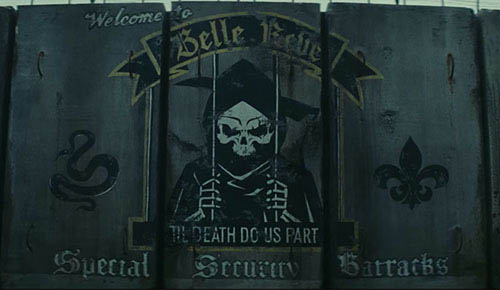 A prisão Belle Reve aparece em alguns momentos do filme,e fora do cinema é uma das mais clássicas prisões do Universo DC. Sua primeira aparição se deu em Esquadrão Suicida Vol. 1 #1, de maio de 1987, por John Ostrander.
Midway City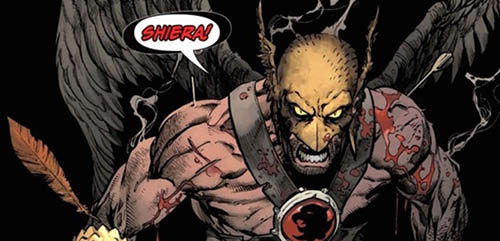 A cidade da Mulher Gavião e Gavião Negro, conhecida como Midway City, aparece no filme.
Força Tarefa-X
A Força Tarefa-X, nome oficial do Esquadrão Suicida nos quadrinhos,é usado também como nome oficial do grupo no filme.
Uniforme clássico da Arlequina + Alex Ross
A roupa original usada pela Arlequina em Batman: A Série Animada aparece no filme,em duas cenas. A primeira quando somos introduzidos à história da personagem,quando ela está dançando com o Coringa de fraque,que,inclusive,é outra referência,dessa vez à famosa ilustração de Alex Ross. A segunda cena é mais difícil de ver,quando ela está escolhendo uma roupa para vestir no início da missão de salvamento de Amanda Waller, podemos reparar no traje clássico dentro de sua caixa. Ela até cogita usar-lo em um breve momento,mas opta por um visual mais "revelador".
O Silêncio do Crocodilo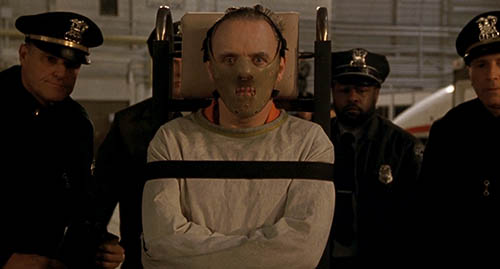 Numa cena do filme,o Crocodilo aparece em uma maca vertical,completamente amarrado e com uma focinheira. A referência é para o famoso filme O Silêncio dos Inocentes, com Hannibal Lecter (Anthony Hopkins) sendo transportado exatamente da mesma maneira.
A espada da  Katana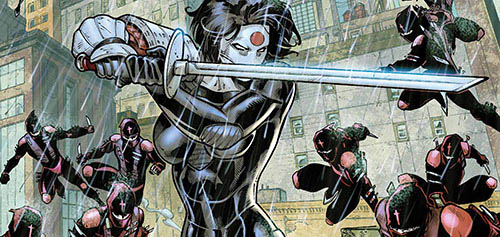 A espada da Katana é a Soultaker,nos quadrinhos e no filme ela absorve a alma de suas vítimas. A história da personagem também está bem fiel aos quadrinhos.
Martelo da Arlequina
Na mesma cena na qual podemos ver o uniforme original da personagem (quando ela está escolhendo o equipamento), vemos também o martelo utilizado por ela centenas de vezes desde sua criação.
Phil Jackson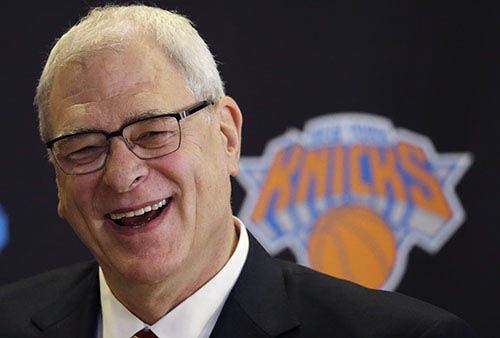 Por duas vezes, o Pistoleiro menciona o nome de Phil Jackson e, na primeira, ele faz menção a um triângulo. Aos que não se ligam em esporte ou não acompanham basquete, Philip Douglas "Phil" Jackson foi um jogador e treinador de basquete e hoje é o presidente do time New York Nicks. Ele tornou-se muito famoso pela forma pouco ortodoxa como encarava e encara o treinamento de uma equipe de basquete, com o uso da filosofia oriental como elemento importantíssimo.
Durante sua época de assistente de treinador do Chicago Bulls, ele encontrou-se com Tex Winter, o criador da técnica conhecida como "ofensiva triangular". Usando-a de maneira brilhante (dentre outras técnicas, claro), ele levou o Bulls a ganhar seis dos nove campeonatos em que esteve a frente do time.
A Morte do Superman
O filme se passa após a suposta morte de Superman em Batman vs Superman. Vemos ambulantes vendendo camisetas com o logo e nome do Superman e a palavra "remember", em referência expressa ao herói caído, mas que já já vai ressuscitar.
Mini-explosivos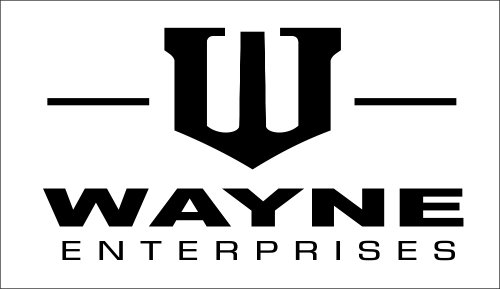 Os simpáticos nano-explosivos implantados nos pescoços dos membros do Esquadrão vêm de empresa de Bruce Wayne, já que o Coringa aparece por lá para sequestrar um cientista de forma a salvar Arlequina. Isso é retirado diretamente dos quadrinhos.
Batman e Pistoleiro
Em flashback, vemos como o Pistoleiro foi capturado pelo Batman. Basicamente, sua filha interferiu e impediu que o pai matasse o Homem Morcego. Mas essa hesitação do Pistoleiro em matar o herói de Gotham City já foi usada nos quadrinhos, já tendo ocorrido um caminhão de vezes.
Watchmen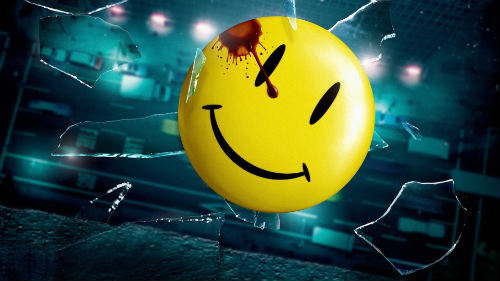 Em uma cena na qual o Esquadrão para em frente a uma loja podemos ver um smiley face gigante por trás. Seria uma referência a Watchmen, mais especificamente ao Comediante? Isso é particularmente importante, pois, na recém-inaugurada fase Universo DC Renascimento, todas as pistas e rumore indicam que o "universo de Watchmen" passará a fazer parte integrante do universo normal, talvez até com os poderes do Dr. Manhattan sendo usados para explicar a origem dos Novos 52.
Correio eficiente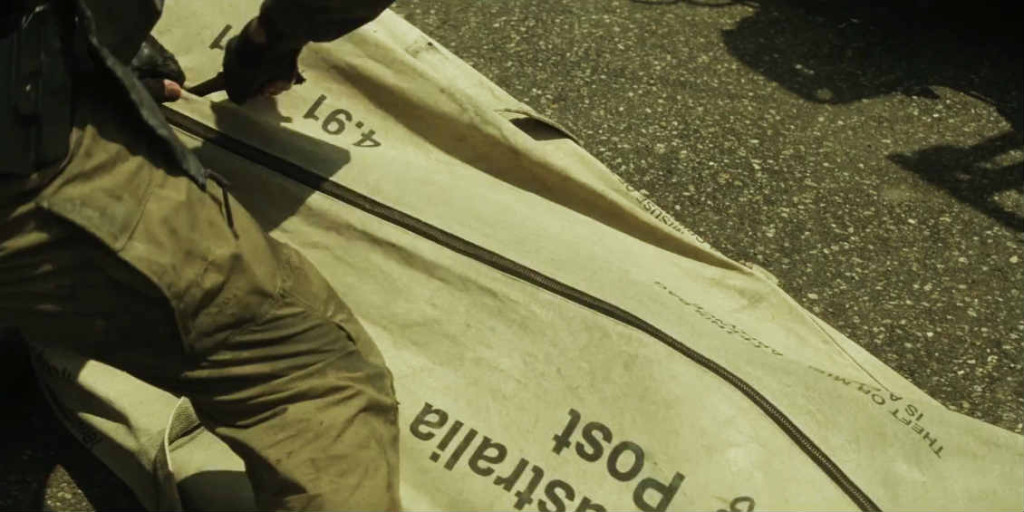 Em um dos momentos mais divertidos do filme, o Capitão Bumerangue é trazido pelo exército até o local de preparação do Esquadrão Suicida em um saco. Se o espectador reparar, notará que não se trata de um saco qualquer, mas sim um saco do correio australiano (australia post), em uma piscadela para a nacionalidade do vilão.
Para Bellum
Quando Arlequina quebra o vidro da vitrine durante a missão de resgate, é possível ver palavras escritas ao fundo. Trata-se do ditado latino Si vis pacem, para bellum, ou, em português, "se quer paz, prepare-se para a guerra" e foi escrita por Publius Flavius Vegetius Renatus em sua obra De Re Militari. Não há correlação com os quadrinhos, mas a frase é muito claramente o lema de Amanda Waller e a razão pela qual ela cria a Força-Tarefa X.
Asilo Arkham
Quando vemos o início da relação doentia entre Arlequina e Coringa, o filme nos leva a um flashback que se passa no famoso Asilo Arkham, onde os mais perigosos criminosos de Gotham estão presos. A câmera sobrevoa o clássico arco de entrada do sanatório, onde é possível ver muito claramente o nome do local.
Bode
Repararam no capanga do Coringa fantasiado com uma máscara de bode na fuga do Asilo Arkham? Seria isso uma piscadela ao episódio Spirit of the Goat (Espírito do Bode), da série Gotham?
A.R.G.U.S
Mencionada no filme como a entidade sob a qual o Esquadrão Suicida atua, ela é o equivalente da S.H.I.E.L.D. na DC Comics e é normalmente comandada por Amanda Waller e Steve Trevor. Ela é mencionada no filme. O que significa a sigla? Bem, houve variação ao longo dos anos, mas, hoje, ela significa Advanced Research Group Uniting Superhumans.
Ostrander
John Ostrander foi o responsável pela versão mais conhecida – e até hoje utilizada – do Esquadrão Suicida, quando ele reviveu o grupo pós-Crise nas Infinitas Terras, em Legends #3, de 1987. Portanto, nada mais justo do que ele ser homenageado no filme, com seu nome batizando o prédio onde Amanda Waller está "presa". Trata-se do John F. Ostrander Federal Building, em Midway City.
Cicada?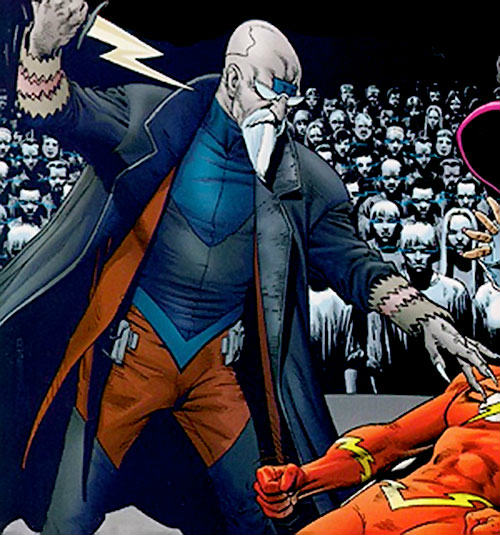 Coincidência ou referência? Bem, o nome do restaurante onde Amada Waller aparece para convencer seus pares de que o programa Força-Tarefa X é necessário chama-se Cicada. Em que isso é importante?
Bem, Cicada é um vilão de 15ª categoria do Flash, que surgiu pela primeira vez em The Flash #170, de 1º de março de 2001.
Morte em Família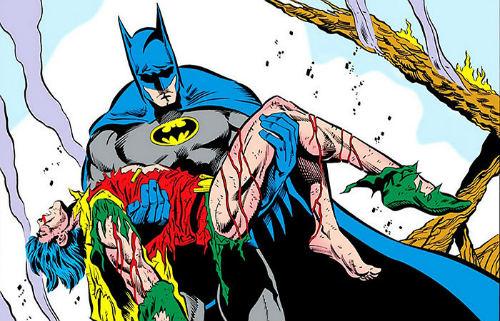 Essa é realmente difícil de pescar e foram necessárias duas sessões de cinema por cada um de nós dois para percebermos que não foi algo imaginado apenas: quando a "ficha policial" de Arlequina pula na tela, ela é indicada como sendo cúmplice do Coringa na morte de Jason Todd, o segundo Robin. Lembrando que o traje de Jason apareceu em Batman VS Superman: A Origem da Justiça.
Sr. Frost
Repararam no principal guarda-costas do Coringa? Um cara barbudo vivido por Jim Parrack que manuseia aquela metralhadora no helicóptero que ele e a tropa do Coringa sequestram? Pois bem, nessa cena mesmo é possível ver rapidamente, em um patch no ombro de seu uniforme, que o nome dele é Frost. Ou, mais exatamente, é Senhor Frost (Mr. Frost). Quem é o sujeito?
Bem, uma das melhores graphic novels focadas no Coringa é justamente Coringa, escrita por Brian Azzarello e desenhada por Lee Bermejo, publicada pela DC Comics em 17 de outubro de 2008. Nela, não só o Coringa é retratado como um gângster (muito parecido com o filme, ainda que no estilo visual do vilão conforme encarnado por Heath Ledger), como a história é contada a partir do ponto de vista de um dos capangas do Palhaço do Crime, Jonny Frost.
Capuz Vermelho
O Capuz Vermelho é um obscuro personagem recorrente na mitologia da DC Comics. Originalmente, ele era um personagem sem nome que surgiu em Detective Comics #168 e não teve sua identidade revelada. Mais tarde, essa identidade vilanesca foi usada como parte da origem mais "aceita" do Coringa, como um uniforme usado pelo ladrão que se tornaria o Palhaço do Crime. No processo de roubar uma fábrica de elementos químicos, Batman e Robin o enfrenta e ele acaba caindo em um tonel, ganhando sua aparência pálida e seu sorriso, além de sua loucura características. Depois ainda, Alan Moore desenvolveria essa narrativa, trabalhando-a em flashback na imortal graphic novel A Piada Mortal.
No assalto à empresa de Bruce Wayne que fabrica os mini-explosivos implantados nos pescoços dos membros do Esquadrão Suicida, o Coringa é acompanhando de diversos capangas fantasiados. Alguns deles usam justamente uma máscara quadrada na cor vermelha que lembra muito a máscara "tubular" vermelha usada pelo Capuz Vermelho originalmente.
Batman "original"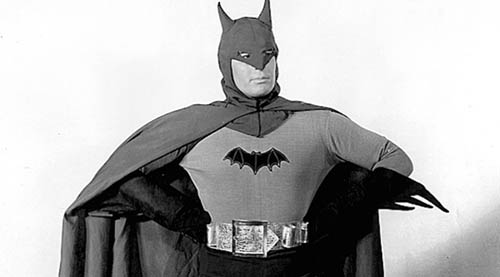 Ainda no mesmo assalto à empresa de Bruce Wayne, um dos capangas fantasiados da gangue do Coringa usa um uniforme que lembra muito a primeira versão do uniforme do Batman, conforme apareceu em Detective Comics #27, de maio de 1939.
ACE Chemicals
No flashback de origem da Arlequina, quando o Coringa a leva a mergulhar em um tonel de elementos químicos, a fábrica onde eles estão é a ACE Chemicals, exatamente a mesma em que a origem do Coringa (vide "Capuz Vermelho" acima) se dá e onde a origem da Arlequina nos Novos 52 também ocorre.
Incubus
O nome não aparece no filme, mas ele existe nos quadrinhos, ainda que longe de ter aquela aparência. Trata-se de Incubus, que aparece na história The Nightshade Odyssey, do Esquadrão Suicida vol. 1.
Namorada de Rick Flag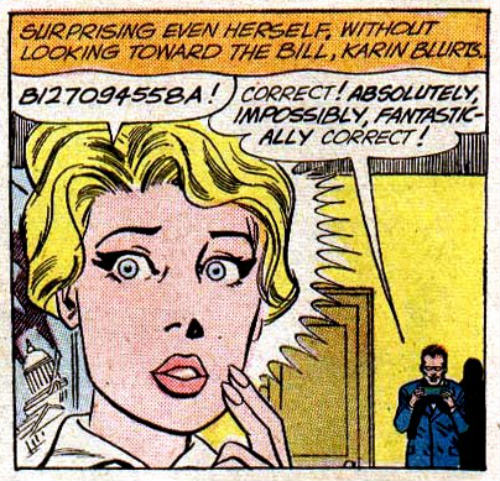 No Esquadrão Suicida original, de 1959, Rick Flag também tinha uma namorada que era membro do grupo. Trata-se de Karin Grace, a médica da equipe. Ela não tem nenhuma relação com Magia, mas é interessante ver que a produção manteve a estrutura clássica referente a Flag no filme.
Tatuagens do Coringa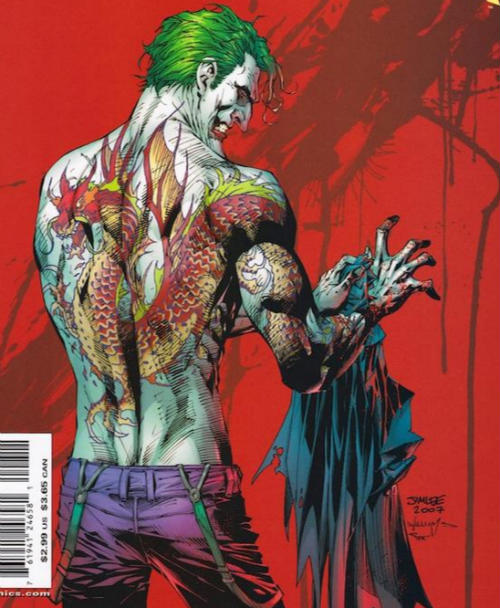 O Coringa não tem tatuagens em seu corpo,mas no quadrinho não cânone "Grandes Astros: Batman e Robin",o caso é diferente. É óbvio que a inspiração para um Coringa tatuado veio dessa HQ.
Morte do Amarra
Duvido que alguém tinha dúvidas se o Amarra morreria no filme,mas o bacana é que essa morte foi praticamente retirada dos quadrinhos, como se vê na imagem. Tudo bem que, na história, ele perde "apenas" a mão e não a cabeça, mas o princípio é o mesmo. E o Capitão Bumerangue é quem manipula o Amarra para confirmar que havia mesmo explosivos implantados.
Cena do "meio" de créditos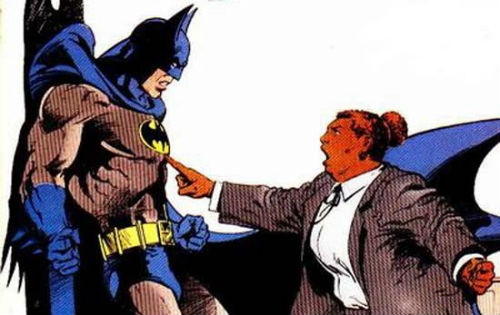 A relação entre Batman e Amanda Waller nunca foi tranquila. Afinal, como poderia ser, considerando que os dois atuam de maneira ilegal quase o tempo todo, com Waller comandando uma equipe formada primordialmente por vilões capturados pelo Batman?
Essa tensão fica evidente na cena de meio de créditos, com Waller jantando com Bruce Wayne. Depois de pedir ajuda a Bruce Wayne para "abafar" o incidente em Midway City, ela entrega a ele um fichário com os dados sobre meta-humanos. Vemos não só Magia, como também Flash e Aquaman, mas, provavelmente, há vários outros. Trata-se, claro, de uma ponte entre Esquadrão Suicida e o vindouro filme da Liga da Justiça.
Ainda que essa cena em si não cumpra nem a função de divertir nem de realmente ter utilidade narrativa específica, o momento final, em que Waller revela que sabe sobre as atividades "noturnas" de Wayne, é praticamente retirado dos quadrinhos, já que a durona Waller já usou isso contra o Batman algumas vezes.