O desenvolvimento de Carros começou na época de Vida de Inseto, em 1998, concebido a princípio por Jorgen Klubien e com o nome The Yellow Car. A ideia é que este fosse o filme seguinte a Vida de Inseto, mas as coisas começaram a pender para o lado de Toy Story 2 e o projeto de Carros só foi retomado após a iniciativa de John Lasseter, que impressionado por uma viagem que fez cruzando parte do país pela Rota 66, contratou o historiador Michael Wallis, especialista na história da Rota, e começou a pesquisa para o roteiro.
Um dos desafios desse projeto era dar vida aos carros, já que esse universo é totalmente povoado por esses automóveis e sem a presença de humanos. Pode parecer exagero, mas depois de um tempo você nem se importa mais ou até mesmo se esquece que eles são veículos. A grande sacada foi esquecer a conhecida ideia de usar os faróis como olhos, colocando a visão no pára-brisa (os responsáveis se inspiraram no curta  Susie The Little Blue Coupe, de 1952). Isso ajudou a dar feições e sentimentos mais humanizados aos personagens.
A trama mostra Relâmpago McQueen (Owen Wilson), um carro de corridas ambicioso, que já em sua 1ª temporada na Copa Pistão torna-se um astro. Ele sonha em se tornar o 1º estreante a vencer o campeonato, o que possibilitaria que assinasse um patrocínio com a cobiçada Dinoco. A fama faz com que Relâmpago acredite que não precise de ninguém, sendo uma "equipe de um carro só". Esta arrogância lhe custa caro na última corrida da temporada, fazendo com que seus dois pneus traseiros estourem na última volta da corrida. O problema permite que seus dois principais adversários, o ídolo Rei (Richard Petty) e o traiçoeiro Chick Hicks (Michael Keaton), cruzem a linha de chegada juntamente com ele, o que faz com que uma corrida de desempate seja agendada na Califórnia. Relâmpago é então levado para o local de corrida por Mack (John Ratzenberger), um caminhão que faz parte de sua equipe. Ele quer chegar ao local antes de seus competidores e, por causa disto, insiste que Mack viaje sem interrupções ou distrações. Mack termina dormindo em pleno trânsito, o que faz com que a caçamba se abra e Relâmpago, que também estava dormindo, seja largado em plena estrada. Ao acordar Relâmpago fica desesperado por não encontrar Mack. Em seu desespero ele chega à pequena Radiator Springs, uma cidade do interior que tem pouquíssimo movimento e que jamais ouviu falar de Relâmpago ou até mesmo da Copa Pistão. Porém, por ter destruído a principal rua da cidade, Relâmpago é condenado a reasfaltá-la. Então o personagem é obrigado a permanecer na cidade contra a sua vontade, aos poucos ele conhece os habitantes locais e começa a se afeiçoar por eles.
O roteiro é simples, porém bem escrito e amarrado. Os personagens principais do filme nos conquistam, principalmente Mater, que é um amigão meio bobo, carinhoso e um pouco desastrado, e Doc Hudson, o ex-corredor vitorioso abandonado que resolveu colocar a si mesmo no ostracismo. O tempo que McQueen passa em Radiator Springs se torna precioso e lhe ensina grandes lições de vida, sendo uma ótima indicação para as crianças (mas também servindo para os adultos).
Em vários momentos, percebemos inúmeras referências que vão desde os tipos de carros presentes no filme ( Doc Hudson é o carro conhecido como Hudson Hornet, um ícone da Nascar nos anos 50 ) até nomes famosos da vida real que são parodiados. A trilha sonora foi muito bem escolhida, contendo clássicos essenciais da música. E temos ainda cenas que homenageiam Juventude Transviada, Velozes e Furiosos, E.T., o Extra-terrestre e até mesmo uma frase de Sharon Stone em Instinto Selvagem: "eu provoco nos 'carros' os seus instintos mais primitivos".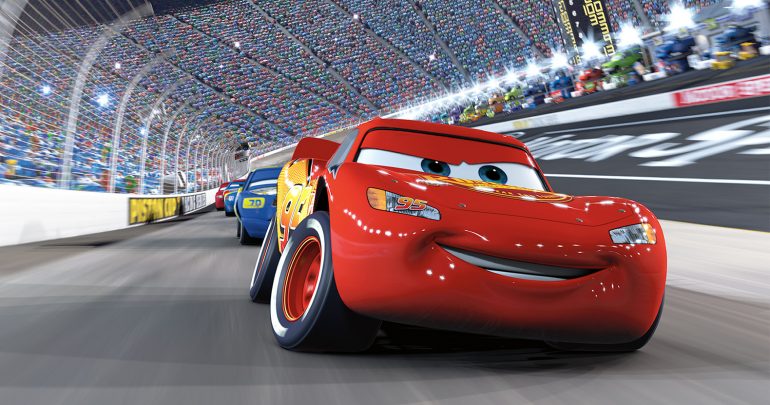 A dublagem em português é  excelente, e muito bem dirigida como acontece praticamente em todas as animações da Pixar. O longa foi o último filme realizado pelo ator Paul Newman no original, que fez com sua voz um trabalho primoroso na forma carrancuda, porém não assustadora, de seu personagem. O ator ainda dublou Doc Hudson para o video game lançado em junho de 2006 e para o curta-metragem Mate e a Luz Fantasma, do mesmo ano. Outros destaques da dublagem vão para Owen Wilson e o incrível trabalho de Larry the Cable Guy como Mater, o caipira que fala errado porque lhe falta o capô. A dublagem brasileira também está igualmente ótima.
O filme consegue retratar bem a sociedade norte-americana, criticando o progresso a qualquer preço. Infelizmente, Carros é uma animação um pouco subestimada pelos fãs da Pixar, com alguns alegando que ela só serve para "vender brinquedos". Mas não concordo totalmente com esse ponto de vista , o primeiro filme traz muitas mensagens boas para crianças e adultos, contendo inúmeras referências que somente os mais velhos vão pescar.
Carros ganhou duas indicações ao Oscar (Melhor Canção e Melhor Animação) e levou o Globo de Ouro na categoria de Melhor Animação. Ainda veríamos a série animada de curtas Cars Toons: As Grandes Histórias do Mate e a sequência (muito criticada pelos fãs) Carros 2, além de um spin-off chamado Aviões, lançado em 2013.
Carros (Cars) – EUA,2006

Direção: John Lasseter,Joe Ranft

Roteiro: Dan Fogelman, John Lasseter, Joe Ranft, Kiel Murray, Phil Lorin, Jorgen Klubien (com adição de material adiciona ao roteiro feita foi Bonnie Hunt, Robert L. Baird, Daniel Gerson, Don Lake, Steve Purcell, Dan Scanlon)

Elenco: Owen Wilson, Paul Newman, Bonnie Hunt, Larry the Cable Guy, Cheech Marin, Tony Shalhoub, Guido Quaroni, Jenifer Lewis, Paul Dooley, Michael Wallis

Duração: 117 min