Se você está procurando desligar seu cérebro, aqui está um filme pouco exigente com o espectador, que lhe dá a oportunidade de se divertir bastante. Jumanji marcou uma geração de espectadores e esta sequência direta e tardia, Jumanji: bem-vindo à selva, procura abrir seu universo para uma nova audiência sem traçar o caminho do original, algo que  pode ser considerado positivo.
Deve-se notar que as primeiras notícias que tivemos deste projeto foram muito diferentes: a Sony planejava um remake, mas a recepção dos fãs era muito negativa, ao que se acrescentou a morte de Robin Williams  em 2014 que colocou a ideia para trás.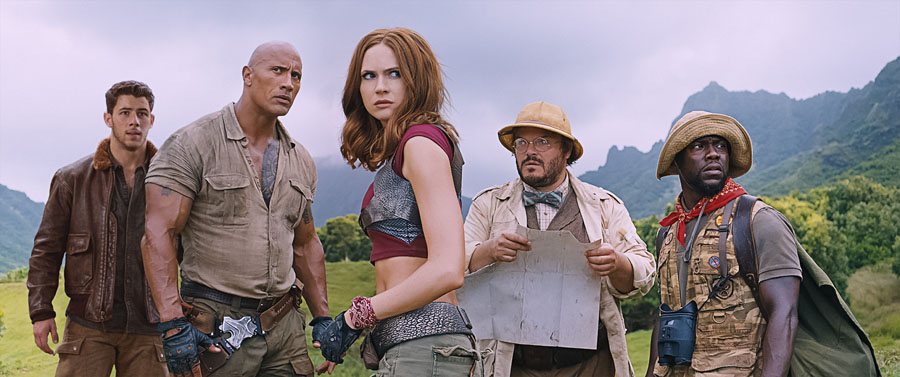 O roteiro de quatro mãos de  Chris McKenna, Erik Sommers (envolvido em Homem Aranha: De Volta ao Lar  e Batman: o filme LEGO ) , Scott Rosemberg e Jeff Pinker , atualiza o jogo transformando o jogo de tabuleiro em um videogame e explorando suas características narrativas, algo que agradará os jogadores de videogames atuais. A sinopse oficial de Jumanji: Bem-vindo à selva nos apresenta como o jogo misterioso e letal. Aqui Jumanji reaparece mais de vinte anos depois. Quatro adolescentes são apresentados a esta nova aventura, agora de um videogame que serve como portal através do espaço-tempo. Absorvido pelo mundo de Jumanji, um jogo que não pode ser abandonado até o final do jogo, o jovem enfrentará rinocerontes, cobras e uma infinita variedade de armadilhas na selva.
Neste jogo, o tímido Spencer (Alex Wolff) será um conquistador musculoso, o atleta do colegio(Ser'Darius Blain) será um zoólogo diminutivo, a bela menina Bethany (Madison Iseman) será uma professor  e a desagradável Martha ( Morgan Turner) se tornará uma assasina. Juntos, eles terão que completar a missão para retornar e continuar com suas vidas.
O filme possui um roteiro bastante previsível. O jovem covarde, o belo presumido e materialista, o nerd inteligente e o garoto popular que joga futebol americano e, por outro lado, porque deixa claro que o jogo não é mais do que um caminho iniciático para um catársis final . Um dos aspectos mais marcantes é que ele combina aspectos da década de 90 com uma estética e um ritmo mais atuais. Nós temos a clássica comédia adolescente que nos leva a uma aventura de jogos de cartuchos estereotipados e, entre as "telas" que temos que passar, temos piscadelas claras para Indiana Jones ou A Mumia, além de detalhes do filme original que agradará aos mais atentos .
O vilão interpretado por Bobby Cannavale é descartável, ele é ruim, muito ruim, porque ele não avança na trama, é cercado por insetos e aranhas que são o complemento ideal de sua escuridão e fatalismo. O longa parece estar ciente de que tem pouco a oferecer: nada é memorável, nada além do selo de qualidade que o elenco nos dá e o legado do sucesso do primeiro filme. Nesse sentido, o ator Jack Black brilha com sua própria luz com seu parceiro Dwayne Johnson . Ele expressa o talento para a comédia e, felizmente, além disso, o filme  admite uma visão familiar. 
Jumanji Bem Vindo á Selva
é engraçado, ainda mais do que o esperado; 
mas também com poucas pretensões e com poucas opções para permanecer na memória do público. É um entretenimento voltado para comédia
. O bom é que ele deixa um pouco de interesse,porque com certeza teremos sequências
 .
Jumanji: Bem-Vindo à Selva- 2017 (Jumanji: Welcome to the Jungle-EUA) 

Direção: Jake Kasdan

Roteiro: Chris McKenna, Erik Sommers, Scott Rosenberg, Jeff Pinkner

Elenco: Dwayne Johnson, Karen Gillan, Jack Black, Kevin Hart, Bobby Cannavale, Nick Jonas, Alex Wolff, Ser'Darius Blain, Madison Iseman, Maribeth Monroe, Missi Pyle, Morgan Turner, Rhys Darby, Tim Matheson, Marc Evan Jackson

Duração: 119 min.