A última vez que o romance de ficção científica clássico Dune de Frank Herbert, o grande estúdio de Hollywood, chegou às telonas, não foi tão bem. O diretor David Lynch foi bombardeado com notas e, pelo menos em alguns cortes, teve seu crédito substituído por "Alan Smithee", o nome que os diretores usam quando rejeitam um de seus filmes .
Sem surpresa, esse drama nos bastidores terminou com um filme que foi mal revisado e falhou nas bilheterias. A Legendary Pictures está dando uma outra chance com o diretor de Blade Runner 2049 , Denis Villeneuve, a graça salvadora da ficção científica moderna . Aqui está tudo o que sabemos (até agora) sobre Dune de Denis Villeneuve .
10-É Um Projeto De Paixão Para Villeneuve
Denis Villeneuve tem tanto cuidado com sua arte que você pensaria que todos os seus filmes eram projetos de paixão, mas sua nova adaptação do clássico de Frank Herbert é . Quando Villeneuve fazia Chegada e Blade Runner 2049 consecutivos e um entrevistador da Variety perguntou a ele sobre sua ligação com o gênero de ficção científica, ele disse: "Estou sempre procurando por material de ficção científica e é difícil encontrar material original e forte que não é apenas sobre armas. Um sonho meu de longa data é adaptar o Dune , mas é um longo processo para obter os direitos, e acho que não vou conseguir. "
9-O Elenco Está Cheio De Atores em Alta em Hollywood Atualmente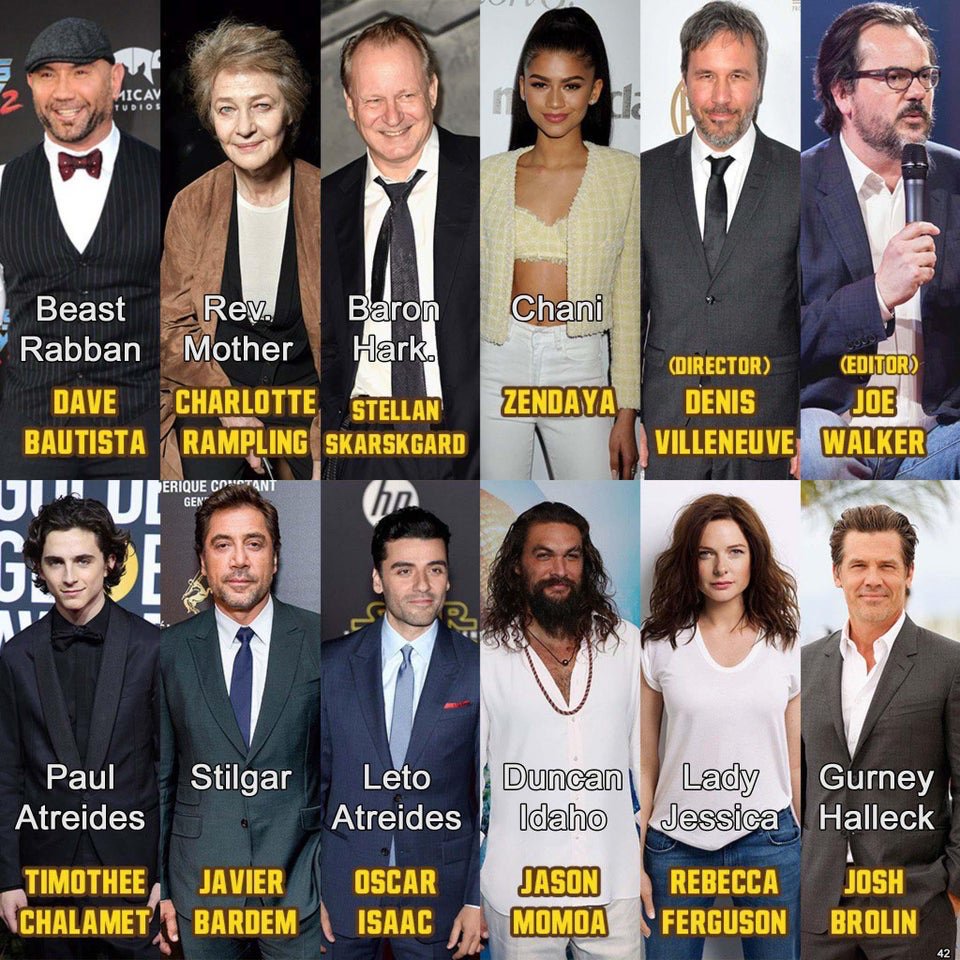 O elenco de Dune inclui um monte de maiores estrelas da atualidade. Timothée Chalamet, a querida indie que estrelou Lady Bird e Call Me By Your Name , e Rebecca Ferguson, que interpretou a protagonista feminina nos últimos dois filmes de Missão Impossível , estão interpretando os papéis principais de Paul Atreides e Lady Jessica, respectivamente. Jason Momoa de Aquaman e Game of Thrones, Josh Brolin e etc.
Oscar Isaac é a terceira estrela, e se ele está em um espetáculo de grande orçamento como Star Wars ou um thriller de baixo orçamento e pequena escala como The Two Faces of January , ele é sempre fantástico. Os favoritos do cinema estrangeiro Javier Bardem e Charlotte Rampling também aparecerão no filme.
8-Ele Tem Muitos Atores Do MCU Em Seu Elenco
O elenco repleto de estrelas do novo filme de Duna supostamente inclui um total de cinco atores do Universo Cinematográfico da Marvel: Zendaya, que recentemente solidificou seu lugar como uma MCU ótima em sua segunda aparição como MJ em Spider-Man: Far From Home , mostrando profunda vulnerabilidade de sua personagem; Josh Brolin, que interpretou Thanos nos dois últimos filmes dos Vingadores (e um punhado de participações especiais e cenas pós-créditos); Stellan Skarsgård e quem interpretou o infelizmente esquecido Erik Selvig em algumas edições iniciais do MCU, começando com Thor ; Dave Bautista, que (obviamente) interpreta Drax, o Destruidor ; e David Dastmalchian, que interpreta um associado de Scott e Luis noFilmes do Homem-Formiga . Talvez Villeneuve seja um grande fã de filmes de quadrinhos.
7-Será Lançado Em 17 De Dezembro De 2020
Duna está programado para ser lançado nos formatos 3D e IMAX em 17 de dezembro de 2020. Novembro não é tipicamente uma temporada cheia de grandes sucessos, porque é logo após a corrida do verão e antes da corrida do feriado. Ainda não há uma dura competição prevista para esse fim de semana, mas um filme de animação da Disney ainda sem título será lançado na semana seguinte.
6-Eric Roth E Jon Spaihts Estão Co-Escrevendo Com Villeneuve
Enquanto Denis Villeneuve está trabalhando no roteiro para sua própria adaptação de Dune , ele não está escrevendo sozinho. Ele se juntou aos co-escritores Eric Roth e Jon Spaihts. Roth escreveu os roteiros de Forrest Gump (pelo qual ganhou um Oscar) e O Curioso Caso de Benjamin Button . Mais recentemente, ele escreveu o aclamado veículo Bradley Cooper / Lady Gaga, Nasce Uma Estrela . Spaihts escreveu o romance de ficção científica Chris Pratt / Jennifer Lawrence, Passengers e contribuiu para os roteiros de grandes sucessos de bilheteria como Doutor Estranho , A Múmia , de Tom Cruise , e Prometheus . Ele também está ligado como produtor executivo no próximo Filme de Minecraft .
5-Está Em Desenvolvimento Desde 2008
Uma nova versão cinematográfica de Dune de Frank Herbert está em desenvolvimento desde 2008. A Paramount Pictures estava lidando inicialmente com o filme, com Peter Berg, diretor da Deepwater Horizon , encarregado de liderar o projeto. No final de 2009, Berg desistiu e Pierre Morel, o cineasta responsável por Busca Implacavel, foi contratado no início de 2010. Em 2011, a Paramount abandonou o projeto por completo e o desenvolvimento parou. O projeto não seria revivido até 2016, quando a Legendary Pictures comprou os direitos do filme e de televisão para Duna e começou a trabalhar no que seria a visão de Denis Villeneuve para a adaptação que veremos no próximo ano.
4-Os Idiomas Estão Sendo Criados Pelo Criador De Dothraki, De Game Of Thrones
Os produtores de Dune contrataram David J. Peterson, um criador profissional de idiomas (sim, esse é um trabalho real), para desenvolver algumas línguas estrangeiras para o filme. Peterson é mais conhecido por criar as línguas dothraki e valiriana para Game of Thrones da HBO . Para Duna , ele está criando a língua Chakobsa, falada pelos Fremen no planeta deserto de Arrakis. Foi anunciado que o idioma será derivado do árabe (um segredo não tão oculto é que a maioria dos idiomas inventados é derivada de idiomas da vida real).
3-O Filme Cobre Apenas A Primeira Metade Do Romance Para Deixar Espaço Para Uma Sequência
De acordo com Brian Herbert, filho do autor de Duna, Frank Herbert, o roteiro da nova adaptação cobrirá "aproximadamente metade da novela", a fim de deixar espaço para uma possível sequência para acompanhá-la . O chefe da Legendary Pictures, Joshua Grode, confirmou os planos do estúdio de iniciar uma franquia Duna e liderar uma sequência, dizendo: "Existe um lugar lógico para parar o [primeiro] filme antes que o livro termine". Nem sempre é uma boa idéia conversar sobre sequências antes do lançamento do primeiro, mas os poderes que estão por trás deste parecem bastante confiantes.
2 -Já Existe Uma Franquia Duna Em Andamento
Além da porta ser deixada aberta para uma sequência, há um spin-off de Dune em andamento. O nome será Dune: The Sisterhood e estréia exclusivamente no próximo serviço de streaming da WarnerMedia HBO Max.
A série servirá como um prelúdio para o enredo do filme, com foco na Bene Gesserit. Jon Spaihts, um dos roteiristas creditados no filme, foi contratado para escrever o roteiro piloto da série, enquanto Denis Villeneuve dirigirá o primeiro episódio do programa, e ambos atuarão como produtores executivos.
1-Será "Guerra Nas Estrelas Para Adultos"
Denis Villeneuve disse que sua visão para a adaptação cinematográfica de Duna é basicamente " Guerra nas Estrelas para adultos". Ele explicou: "A maioria das idéias principais de Guerra nas Estrelas são provenientes de Duna , então será um desafio [enfrentar] esta.
A ambição é fazer o filme Star Wars que eu nunca vi. De certa forma, é Guerra nas Estrelas para adultos. Vamos ver. "Curiosamente, David Lynch recusou a oferta de George Lucas de dirigir Return of the Jedi , a fim de dirigir sua própria adaptação de Duna , para que os dois sempre estivessem intimamente ligados nos bastidores.