O horror sempre fez parte de nossas vidas; seja pelas histórias assustadoras que costumávamos contar e ouvir de nossos amigos quando crianças, ou pelas ansiedades da vida adulta – que são um pouco originadas em nossos medos infantis -, ela se apresenta das mais diversas formas. É também nesse contexto que os filmes de terror vivem e se reproduzem, alimentando nossos medos primitivos e desejo constante de ser surpreendidos.
Alguns filmes são exagerados para mostrar quantidades incríveis de sangue, tripas e gritos, às vezes mutilados com efeitos especiais desajeitados, atuação terrível e frases histéricas.
Muitas pessoas descartam esses filmes em primeira mão por causa de sua aparente baixa qualidade. Sim, os filmes de terror B são chamados assim porque têm um orçamento baixo e um elenco e equipe menores, e sim, há uma grande quantidade deles que são apenas maneiras baratas e fáceis de ganhar dinheiro com um enredo desinteressante.
Mas, se você olhar bem de perto, algumas são exceções, apresentando-nos idéias inteligentes e criativas (você precisa ser original para fazer algo de bom com uma produção de baixo orçamento), que às vezes acaba criando novos tipos de cinema e influenciar os filmes mais populares. Portanto, eles podem não ser tão descartáveis ​​quanto você imagina, além de serem divertidos e uma maneira de proporcionar uma ótima sessão de pipoca entre amigos.
10. Noite dos Demônios (Kevin Tenney, 1988)
O que a princípio parecia ser apenas mais uma história de horror clichê, onde um grupo de adolescentes vai para um lugar isolado no Halloween e acaba sendo perseguido por um monstro, acaba sendo outra coisa. A Noite dos Demônios de Kevin Tenney é semelhante ao Evil Dead de Sam Raimi, no sentido de que envolve a posse de demônios perversos e uma grande quantidade de sangue e tripas, mas também é criativo por si só.
O pôster do filme já é um indicativo do que vamos encontrar. Vários personagens que de repente se tornam maus quando possuídos, ganham maquiagem macabra e executam assassinatos horríveis que não teriam imaginado um momento atrás. Os estereótipos habituais são todos personificados nos personagens, mas a direção da arte criativa salva o filme do que poderia ter sido simplesmente outro filme inútil dos anos 80.
9- FOME ANIMAL (Peter Jackson, 1992)
É difícil imaginar que Peter Jackson tenha dirigido um filme tão lixo e sangrento como "Fome Animal" uma década antes de dirigir a trilogia de "O Senhor dos Anéis" e "O Hobbit". No entanto, mesmo que "Fome Animal" não tenha o mesmo orçamento que uma grande produção em estúdio, ele tem a mesma qualidade de filme que uma.
Lionel é um tipo nerd que vive com sua mãe e é extremamente submisso a ela; não seria diferente com Paquita, com quem ele desenvolve um vínculo constrangedor. Enquanto Paquita é uma garota simples que tem certeza de que Lionel é o amor de sua vida, por causa de uma previsão que sua avó viu em cartas de tarô, dizendo que o homem seria reconhecido pelo símbolo da estrela e da lua. É claro que quando eles se encontram, de alguma forma Lionel, em um de seus ataques desajeitados, consegue produzir um símbolo de estrela.
Peter Jackson alcança um nível totalmente novo de criatividade de maneiras que você pode morrer em um filme de terror, usando o máximo de sangue possível (a produção registrou 300 litros de sangue falso), é claro.
8- RE-ANIMATOR(Stuart Gordon, 1985)
O diretor Stuart Gordon teve a idéia de adaptar uma das novelas de HP Lovecraft em um filme de ficção científica e depois nasceu o Re-Animator. Ele nos apresentou uma reedição de tantos filmes de zumbis, só que desta vez mutilados por uma trama de ficção científica, muito mais sangue e tripas e tons humorísticos.
Jeffrey Combs protagoniza Re-Animator como um jovem médico ambicioso, Herbert West, que deseja impulsionar sua carreira experimentando um soro que supostamente traz de volta os cadáveres à vida. Quando ele tenta pela primeira vez o corpo novo de seu professor, ele funciona, mas traz muitos efeitos colaterais terríveis e, portanto, West é acusado de assassinato.
O resto do filme se desenrola enquanto West continua sua cruzada de re-animação, sempre deixando vestígios de sangue e um corpo contam por onde passa. O que vemos é uma sucessão de pessoas vivas sendo mortas e / ou morrendo e voltando à vida em um estado horrível, como zumbis, mas isso não impede Herbert West de querer reconhecimento por sua descoberta.
7- A NOITE DOS MORTOS VIVOS (George A. Romero, 1968)
O cineasta George A. Romero mal sabia que estaria fazendo história com seu filme de zumbi de baixo orçamento, "Night of the Living Dead". Foi filmado em preto e branco, para que a produção não tivesse problemas com a maquiagem ou o sangue, e era para ser um filme da meia-noite – um filme que seria exibido em um grupo bastante selecionado de cinemas para a maioria do público universitário – então ninguém esperava que fosse bom.
Na verdade, ninguém que assistiu o filme no momento de seu lançamento nem sabia que estaria testemunhando uma mudança na história do cinema quando ouviu pela primeira vez as linhas icônicas: "eles estão vindo buscá-la, Barbara!"
O que parecia ser apenas mais um filme de terror acabou desencadeando uma revolução na maneira como o cinema estava sendo concebido nos anos 60, especialmente nos filmes de terror. Os zumbis tiveram uma breve aparição nas telas antes de "Night of The Living Dead", principalmente relacionada a religiões de vodu, experimentos científicos ou abduções alienígenas. Agora, pela primeira vez, esses eram monstros de verdade, e nada poderia salvar os personagens de seu destino terrível.
O filme é claramente um subproduto desde a sua criação, os anos 60 foram repletos de transformações sociais e políticas, e sabemos que não estamos assistindo a um filme comum, porque o protagonista é um homem negro, e todos os personagens parecem ser pessoas reais, mostrando reações reais a uma calamidade pública, deixando para trás todos os estereótipos de filmes de terror.
6- Hellraiser (Clive Barker, 1987)
A criação infernal de Clive Barker começou bem na primeira parcela da franquia. Baseado em sua novela "O Coração do Inferno", o filme conta a história de Frank Cotton, um homem que compra o que parece ser uma caixa de quebra-cabeças de um traficante no Oriente.
O que parecia ser um objeto inofensivo acaba por abrir um portal para outra dimensão, cheia de criaturas bizarras que farão com que os desejos mais íntimos de Frank se tornem realidade. Essas criaturas são "cenobitas", e seu objetivo é agradar quem resolver a caixa de quebra-cabeças, levando essa pessoa aos extremos do sadomasoquismo.
Frank é morto nesse processo, e vemos cenas macabras do que aconteceu com ele. Durante o resto do filme, ele tenta voltar à vida, mas para fazê-lo; ele precisa da ajuda de sua cunhada, Julia, com quem teve um caso.
Para que Frank se torne uma pessoa completa novamente, ela deve alimentá-lo com a carne e o sangue de outros homens, para que Frank os absorva e cresça. Somos apresentados a uma das maquiagens mais bem feitas nos filmes de terror nas cenas a seguir, vendo Frank passar de uma pilha grossa de gosma a um esqueleto com tecidos e ossos, e assim por diante, até se tornar um ser humano completo novamente.
Também temos a presença de uma personagem feminina forte, Kirsty, interpretada por Ashley Laurence. É ela quem coloca em risco o plano de Frank e Julia quando encontra a caixa do quebra-cabeça e a abre acidentalmente. Então encontramos Pinhead, um dos cenobitas (aquele que se tornou mais associado ao filme), que quer levar Kirsty para outra dimensão e tornar realidade todos os seus supostos desejos. Hellraiser é certamente um dos filmes de terror mais sangrentos e de alta qualidade dos anos 80.
5- Nekromantik (Jörg Buttgereit, 1988)
Artístico e repelente ao mesmo tempo, este filme alemão chocou o público ao ser lançado. Somente o enredo já está destinado a enojar a maioria das pessoas, contando a história de um casal que decide praticar atos de necrofilia com um cadáver, o que é possível porque o marido trabalha em um necrotério local.
As cenas mais chocantes envolvem a relação sexual com o cadáver, realizada pelo casal mencionado, o massacre real de um coelho e o personagem principal esfaqueando-se no estômago, junto com a atmosfera assustadora que cada cena emana.
Não só isso, é principalmente assustador, porque não envolve elementos sobrenaturais, apenas pessoas reais em situações que poderiam muito bem acontecer na vida real. O diretor Jörg Buttgereit dirigiu mais tarde outro filme polêmico sobre a mente de um serial killer, chamado "Schramm", de 1993, que também merece uma menção honrosa aqui.
4- Palhaços Assassinos do Espaço Sideral (Stephen Chiodo, 1988)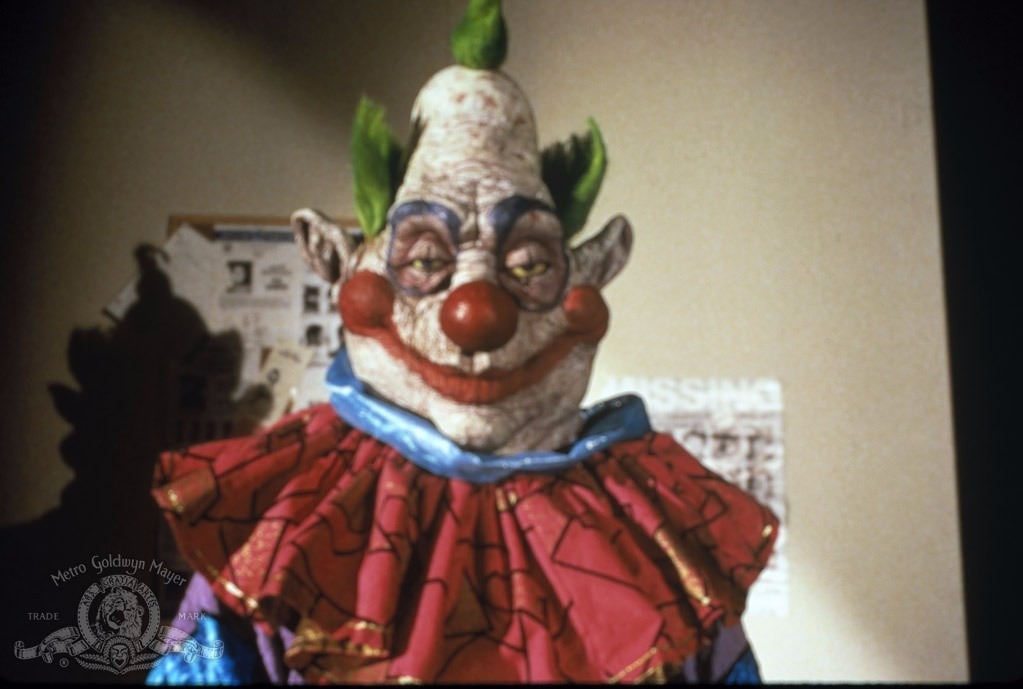 Palhaços Assassinos do Espaço Sideral é muito divertido de assistir, quando a música-tema começa com o toque de circo tocado por uma guitarra elétrica, sabemos que estamos prestes a experimentar algo incomum. Não é incomum que filmes de terror mostrem palhaços do mal, aproveitando um paradoxo para assustar o público.
Um paradoxo, porque os palhaços são originalmente personagens criados para fazer todo mundo rir e se divertir, através de suas mordaças e roupas coloridas, mas ninguém pode negar que há realmente algo inquietante neles, como pode muito bem haver algo não tão agradável por trás de toda essa maquiagem. acima.
Palhaços Assassinos do Espaço Sideral também lida com esse paradoxo, os palhaços que pousam na Terra são do tamanho de seres humanos e se vestem como os normais, na verdade, todos os personagens os acham inofensivos à primeira vista, mas imediatamente você vê que eles estão fazendo coisas importantes .
Ao longo do filme, os palhaços cometem vários assassinatos macabros, incluindo um em que o palhaço em questão transforma a vítima morta em seu próprio boneco pessoal. Basicamente, eles andam por aí fritando as pessoas com suas armas a laser ou armazenando-as em casulos de algodão doce, e a razão pela qual chegaram à Terra é especulada apenas pelos personagens, mas isso realmente importa?
3- Acampamento Sinistro (Robert Hiltzik, 1983)


Acampamento Sinistro é um slasher do começo ao fim, e essa lista não pode perder esse subgênero em particular, já que é um dos mais populares e mais lucrativos. A história segue a fórmula em que um assassino misterioso mata várias pessoas em um local específico, geralmente um acampamento, hotel, cabana ou qualquer lugar isolado como esse. Nesse caso, temos um acampamento de verão, cheio de adolescentes de todas as esferas da vida, preenchendo todos os estereótipos.
A protagonista é uma garota que é intimidada pelas outras crianças no campo por ser tímida e nunca falar com ninguém. Seguimos a história, já que os assassinatos acontecem de maneiras diferentes, da maneira usual do lixo, e tudo seria o mesmo de outros filmes, se não fosse a última cena do filme, chocante e perturbadora, mesmo para filmes como esta.
2- O Massacre da Serra Elétrica (Tobe Hooper, 1974)
Definitivamente um dos maiores slashers, lançado no início dos anos 70, tornou-se um precursor no subgênero e, posteriormente, um clássico cult. Este filme é lembrado até hoje devido à sua nova abordagem de horror, Leatherface é um dos vilões mais brutais que já apareceu na tela e o retrato da violência em "Texas Chainsaw" é no geral cru e horrível. Escusado será dizer que continha vários elementos que mais tarde se tornariam comuns em filmes de terror.
Há um aviso no começo do filme, dizendo que ele foi inspirado por fatos da vida real, mas isso foi apenas uma tática de marketing, embora algumas das características de Leatherface realmente tenham sido inspiradas pelo assassino da vida real Ed Gein, o "psicopata original" da América. . O orçamento baixo forçou Tobe Hooper e a equipe de atores desconhecidos a filmar o mais rápido possível, e o filme realmente tem um ritmo acelerado, o que só aumenta a tensão.
Uma das cenas mais chocantes é no final do filme, onde somos apresentados aos membros da família de Leatherface; seu irmão, pai e avô, um retrato de família perfeito. A última cena segue uma fuga, onde vemos Leatherface no meio da estrada, brandindo furiosamente sua serra elétrica no ar por frustração, enquanto raios de sol atingem a câmera, uma das cenas mais icônicas do horror, sem dúvida.
1-UMA NOITE ALUCINANTE- A MORTE DO DEMÔNIO II (Sam Raimi, 1987)
De fato, esta sequência de "Evil Dead" de 1981 tem um dos primórdios mais intensos da história dos filmes de terror, pois vemos o anti-herói Ash Williams sendo um peão para os espíritos malignos do Livro dos Mortos. De fato, é espirituoso, irônico, sombrio e assustador, de uma só vez, e nos atinge com a mesma energia que os espíritos atacam Ash desde o início: é tudo o que um filme de terror trash deveria ser.
Enquanto o primeiro filme foi mais lento, com um enredo de terror mais estereotipado – um grupo de adolescentes vai para uma cabana na floresta e tropeça em algo sobrenatural – este mal dá tempo para respirar e é muito mais original.
Cenas como aquela em que Ash está sozinho na cabine e os espíritos tentam fazê-lo enlouquecer por várias táticas são coisas que não vemos em nenhum tipo de filme de terror com muita frequência. A diferença é que, nessa sequência, Sam Raimi e sua Renaissance Pictures tinham um orçamento melhor, para que pudessem transformar algo que já era bom em algo ainda maior.
Mais tarde, Linda, a filha do professor que descobriu o "Necronomicon Ex Mortis", chega à cabana junto com o namorado e outro casal que mora nas proximidades. Eles imediatamente antagonizam Ash e o culpam pela morte dos pais de Linda, mas logo descobrem que ninguém consegue lidar com o mal como Ash faz, e o que vemos desvendar diante de nossos olhos é um parque de diversões das cenas mais sangrentas de todos os tempos.
Bruce Campbell apresenta uma performance incrível como Ash Williams, que se torna o grande herói e ícone da franquia, muito antes de ele dizer "Groovy!" A franquia Evil Dead reuniu uma enorme base de fãs, eventualmente se tornando um clássico cult e gerando vários acompanhamentos, como videogames, histórias em quadrinhos, um terceiro filme – Army of Darkness – e um remake, feito em 2013, no qual Raimi também estava envolvido.