AVISO: O conteúdo a seguir contém spoilers para o final da primeira temporada da série, "Redemption",
O final da 1ª temporada de The Mandalorian revelou um enorme detalhe sobre os Mandalorianos, guerreiros quase lendários da galáxia Star Wars : eles não são uma corrida, mas um Creed, como os Jedi, que sem dúvida é uma surpresa para os fãs. de Star Wars: The Clone Wars e Star Wars Rebels .
Ao longo de sua primeira temporada de oito episódios, a série Disney +, se não recontada, certamente recontextualizou a cultura Mandaloriana, com menções enigmáticas do Grande Purge; a diáspora subsequente, e possível quase erradicação, dos seguidores do Caminho; uma recusa solene de um mandaloriano em remover seu capacete na frente de outro; e a introdução da figura do ferreiro-sacerdote, o Armorer. Vamos dar uma olhada nas maiores revelações.
HISTÓRIA
Mandalorianos eram um povo em guerra do planeta Mandalore, que rapidamente se expandiu para dominar seu setor e tentou penetrar na borda interna da galáxia … até que os Jedi recuaram. Esse inimigo inesperado, que utilizou poderes místicos, impulsionou a tecnologia Mandaloriana a igualar, repelir ou superar os poderes Jedi. Apesar da inimizade, eles nem sempre estavam em guerra; em alguns momentos, Mandalorianos sensíveis à Força foram introduzidos na Ordem Jedi. Um deles era Tarre Vizsla, o primeiro Jedi de Mandalore e o falsificador do Darksaber, cujos descendentes, particularmente Pre Vizsla, não eram tão equânimes em seu relacionamento com a Ordem.
No entanto, a guerra devastou seu planeta e dividiu os mandalorianos em duas facções: o pacifista, liderado pela duquesa Satine Kryze, o governante oficial de Mandalor; e a Patrulha da Morte, liderada por Pre Vizsla, que vivia na lua de Concórdia e buscava um retorno aos velhos costumes. Palpatine aproveitou essas divisões para instalar uma série de governantes de marionetes, primeiro durante as Guerras Clônicas e depois sob o domínio imperial, uma era devastadora para Mandalore que culminou no Grande Purge, durante o qual muitos Mandalorianos foram mortos e seu precioso aço beskar era roubado pelo Império .
Embora os Mandalorianos deixem ambígua a origem do enclave, ou tribo, vivendo em segredo nos esgotos de Nevarro, está implícito que eles descenderam dos Mandalorianos da Vigília da Morte, que resgataram o jovem Din Djarin durante as Guerras Clônicas e o adotaram e treinaram até ele também comprometeu-se ao Credo.
ORGANIZAÇÃO
A tribo parecia estar organizada com o Armorer como líder e guia espiritual, e os Mandalorianos adultos emergindo um de cada vez para disfarçar seus verdadeiros números e prover os secretos e os fundadores. O Armeiro decidiu quem recebeu um selo, que marcou a fundação de um clã, a unidade familiar básica da cultura Mandaloriana. Emblemas de clãs são determinados pelos feitos de seu fundador; relação de sangue não importa, desde que os membros constituam uma unidade familiar. Din Djarin agora tem um clã de dois: ele e o Menino. Os clãs podem pertencer a Casas, como Clan Wren era aliado à Casa Kryze, mas no final da 1ª Temporada, não se sabe se há casas.
Os Mandalorianos de Nevarro compartilhavam um espaço de vida, recursos e sabedoria, e pareciam manter o costume de eliminar suas diferenças no combate individual.
A CRENÇA
A tribo dos Mandalorianos vive e morre pelo Credo, que no momento em que os conhecemos incluía a proibição de remover o capacete na frente de qualquer pessoa viva, a obrigação de vencer lutas honrosamente, a necessidade de permanecer escondido e a priorização das crianças.
Como visto no terceiro episódio, existem algumas rachaduras na fachada – alguns mandalorianos, como Paz Vezla, se opõem aos remanescentes do exército imperial e consideram qualquer contrato, troca ou pagamento deles a maior desonra à sua tribo. O Armeiro parece mais neutro, colocando o bem-estar da tribo antes de qualquer outra coisa e o dos fundadores acima da tribo. Ações derivadas de seguir o Credo são pontuadas pela declaração "Este é o Caminho".
A ARTE DA GUERRA
The Mandalorian focou especialmente no arsenal dos guerreiros, desde o capacete mencionado acima – é capaz de detectar assinaturas de calor e captar áudio de longo alcance – até a armadura cobiçada forjada a partir de beskar. Outras armas mandalorianas legais são seus jet packs, que eles chamam de "a arte da Fênix Nascente", nos quais treinam quando crianças, mas que exigem prática constante dos adultos para dominar, seus vambraces, que possuem lança-chicotes, lança-chamas duplos e os pássaros assobiando de alcance inacreditável e com alcance de grupo.
Em relação às táticas, os Mandalorianos são flexíveis e inteligentes, mas preferem a honra antes da razão – embora no caso da Armourer, que derrubou um pelotão inteiro de Stormtroopers apenas com suas ferramentas de forja, suas habilidades sejam tão elevadas que qualquer pessoa que a prenda seria irracional. 1.
A melhor qualidade deles é a atitude de "dar as costas" em relação aos seus, mesmo que eles não gostem do Mando em questão, e isso os coloca em grande perigo. O disfarce de Din cobriu sua fuga de Nevarro com a Criança, embora ele nunca tenha pedido ajuda.
O SABRE NEGRO
O Sabre Negro foi visto nos momentos finais do final da temporada, Moff Gideon (Giancarlo Esposito) é visto empunhando o lendário sabre de luz , uma relíquia da Casa Vizla forjada pelo primeiro Mandaloriano a se juntar à Ordem Jedi.
Din relata que Gideon era um oficial do Departamento de Segurança Imperial durante o Grande Puro, o que provavelmente lhe permitiu acessar as relíquias de Mandalor, e ele poderia ter tomado o o Sabre Negro após a queda do Império. Curiosamente, o Mandaloriano que confrontou e depois defendeu Din no Capítulo 3 é Paz Vizla, embora não se saiba se ele é um descendente do lendário Jedi.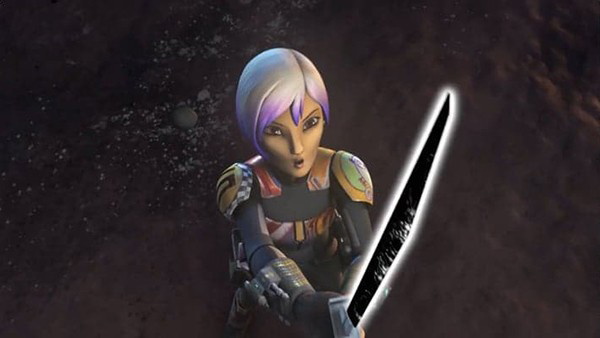 De qualquer forma, a capacidade de Gideon de usar o Sabre Negro, sugerem uma conexão Sith ou Jedi. Pode haver uma chance de que ele seja sensível à Força, ou pelo menos interessado na Força, ou que esteja trabalhando com uma facção.
De qualquer forma, o Sabre Negro representa o melhor dos Jedi e dos Mandalorianos, bem como o nome de uma casa que, como os Skywalkers, passou descontroladamente de uma afiliação para outra ao longo de sua história. O fato de um ex-Imperial inteligente estar com a arma tão casualmente parece um presságio para a segunda temporada.