A bolha dos quadrinhos e dos super-heróis está longe de estourar ainda, com vários estúdios tentando entrar em ação. O principal deles é o Netflix, que tem como objetivo adaptar inúmeras propriedades dos quadrinhos após perder a série Marvel '. Aqui está um resumo das histórias em quadrinhos que a Netflix está trazendo para a plataforma no futuro e agora, sobre o que elas são e quem as protagoniza.
O LEGADO DE JÚPITER
Baseado no homônimo livro de quadrinhos de Mark Millar e Frank Quitely de 2013, o Legado de Júpiter conta a história de uma nova geração de seres superpoderosos, que lutam para alcançar o legado de seus pais de super-heróis lendários. A série foi criada por Steven S. DeKnight, que criou várias série como a de Spartacus para Starz. Muitos dos heróis da equipe da série, The Union, se assemelham a outros super-heróis icônicos, como Sheldon Sampson, de Josh Duhamel, como Superman. Outras estrelas incluem Ben Daniels, Leslie Bibb, Elena Kampouris e Matt Lanter.
LOCKE E KEY
Locke e Key são os três irmãos Locke, que retornam à sua casa em Massachusetts depois que seu pai é morto. Eles logo descobrem que seu novo lar tem um conjunto de chaves mágicas, que impregnam cada um deles com seus próprios poderes e habilidades mágicas. Infelizmente, um demônio feroz começa a caçar o trio, com a intenção de obter as chaves para si. Adaptado da série de quadrinhos IDW de Joe Hill, o programa de TV teve uma história de produção sitiada. Inicialmente, optou por um piloto para a Fox, depois fez a transição para um filme e depois uma série no Hulu, antes de finalmente encontrar uma casa na Netflix. Estreia em 7 de fevereiro, a série é estrelada por Jackson Robert Scott, Connor Jessup, Emilia Jones, Darby Stanchfield, Griffin Gluck e Sherri Saum.
WARRIOR NUN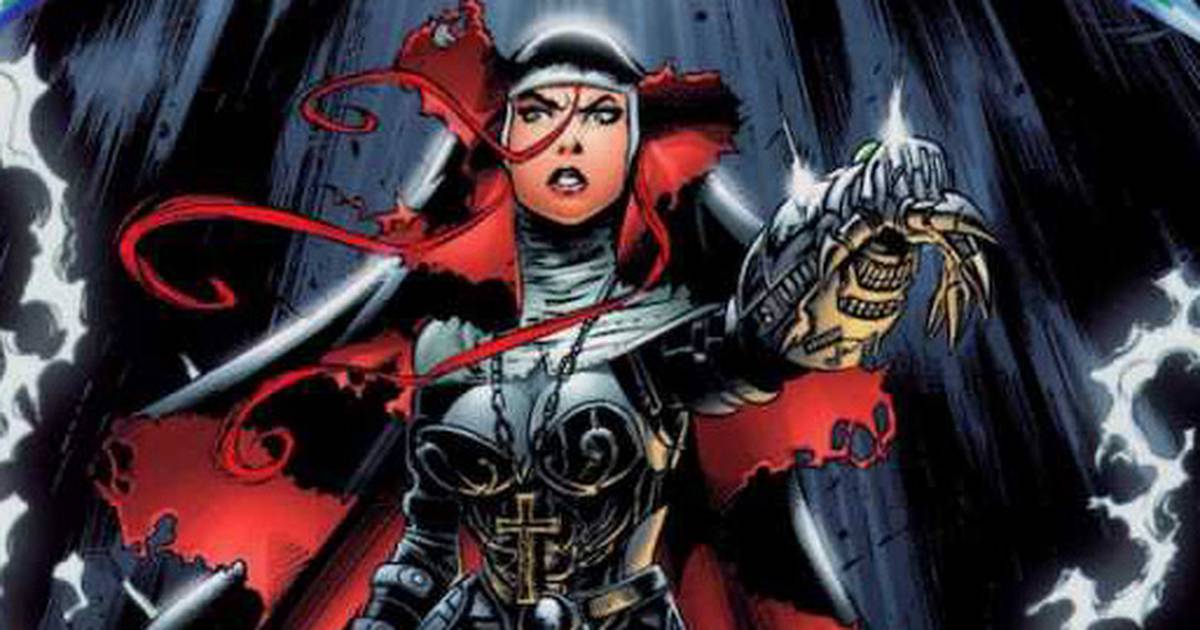 Warrior Nun estrela uma mulher amnésia chamada Ava, que acorda e encontra um objeto místico preso às costas dela, e ela mesma no meio de uma guerra entre o Céu e o Inferno. O chefe nessa guerra é uma ordem de freiras, que empunham uma variedade de armas em sua busca contra as forças das trevas. Baseado na história em quadrinhos Warrior Nun Areala dos anos 90 . A história em quadrinhos era notavelmente controversa, principalmente pela combinação de obras de arte com assuntos bíblicos. A série tem no elenco Alba Baptista, Toya Turner, Tristan Ulloa e Thekla Reuten.
SANDMAN
Com um tempo excepcionalmente longo, Sandman adapta a lendária história em quadrinhos de Neil Gaiman da Vertigo / DC Comics. Baseados no mundo intricadamente detalhado de Morpheus, o Senhor dos Sonhos, outros personagens incluem o resto da família conhecida como O Infinito, composta de conceitos cósmicos como Destruição, Desespero e Morte. A narrativa antológica muitas vezes dos quadrinhos fez as várias tentativas de adaptar a série ao longo dos anos em um pesadelo logístico. A ordem da temporada de 11 episódios definitivamente deve ajudar o programa a atingir seu objetivo muito melhor do que um filme, no entanto. A história em quadrinhos de Sandman foi revolucionária na época de seu lançamento e, ao lado de Watchmen e The Dark Knight Returns,abriu o caminho para histórias mais sombrias e maduras no meio dos quadrinhos. A série de TV é criada por Gaiman, David Goyer e Allan Heinberg, mas nenhum elenco foi anunciado ainda.
OCTOBER FACTION
Outra série de terror baseada em uma história em quadrinhos da IDW, October Faction segue a família Allen, liderada pelo marido e esposa caçadores de monstros Fred e Deloris. Eles logo descobrem que sua nova casa não é tão silenciosa quanto parece, o tempo todo lidando com o drama de seus filhos gêmeos. O programa é estrelado por Tamara Taylor e JC Mackenzie como pais, enquanto Aurora Burghart e Gabriel Darku interpretam seus filhos Viv e Geoff. A série estreia em 23 de janeiro.
SUPER CROOKS
Outra adaptação de uma história em quadrinhos de Mark Millar, o Super Crooks animado vê o supervilão Johnny Bolt tentando reunir uma equipe de criminosos para o assalto final. Estes incluem o pistoleiro intangível Fantasma, o pirotécnico The Heat e o Gladiador, um super-herói chantageado com imensa força. Como muitos dos trabalhos de Millar, a história em quadrinhos desconstruiu tropas e arquétipos notáveis ​​de super-heróis, combinando-os o tempo todo com elementos no estilo de Onze Homens e um Segredo. A série será uma das várias propriedades de animação ocidentais da Netflix que o serviço de streaming coloca na categoria de anime.
THE OLD GUARD
Adaptando uma revista em quadrinhos de Greg Rucka de 2017, The Old Guard é sobre um grupo de soldados que de repente se vêem imortais. O grupo luta para permanecer junto em meio a suas habilidades de se tornar público e à descoberta de um novo imortal. O elenco inclui estrelas premiadas como Chiwetel Ejiofor e Charlize Theron, a última das quais também produz o filme. Gina Prince-Bythewood, dirige enquanto Rucka atua como produtor executivo.
AMERICAN JESUS
Outra adaptação do Millarworld, tudo parte de um acordo com a Netflix , American Jesus apresenta um garoto de 12 anos que descobre que ele é a reencarnação de Jesus Cristo. Não apenas ele pode realizar todos os feitos milagrosos, mas em breve, ele também terá que enfrentar o Anticristo e a próxima batalha do Armagedom. A série será multilíngue, com espanhol e inglês. A série vem na sequência de uma já controversa série da Netflix Messiah. Nenhum elenco foi anunciado ainda.
BONE
O icônico Bone, criado por Jeff Smith, está finalmente recebendo uma adaptação animada! Estrelando Fone Bone, Phoney Bone e Smiley Bone, a extravagante série de fantasia combina essencialmente a natureza épica das obras de Tolkien com desenhos animados clássicos e histórias em quadrinhos como Calvin e Hobbes. A história em quadrinhos ganhou inúmeros prêmios, e o fato de ter demorado tanto para receber uma adaptação foi desconcertante e também possivelmente devido à assinatura do seu estilo artístico. No entanto, nada foi dito ainda sobre a próxima série animada fora de seu anúncio.
THE MAGIC ORDER
The Magic Order dá vida a uma história em quadrinhos de Mark Millar. A série é composta por cinco famílias aparentemente normais, que na verdade são um bando de poderosos feiticeiros que compõem a ordem titular. Juntos, eles devem se defender de um inimigo misterioso que os caça e os mata um por um. O material de origem é realmente o primeiro quadrinho da Netflix, então a adaptação certamente fará justiça ao livro. Os produtores executivos são Lindsey Beer e James Wan, o último dos quais dirigiu Velozes e Furiosos 7, Aquaman e deu um salto inicial em The Conjuring Universe.
CURSED
Curse (Amaldiçoada versão livre) é a versão televisiva do romance ilustrado ainda com o mesmo nome. Tom Wheeler está escrevendo o livro, com ilustrações feitas pelo lendário criador de quadrinhos Frank Miller, escritor e artista por trás de O Retorno do Cavaleiro das Trevas, Sin City, e uma edição icônica de Demolidor. A série é sobre Nimue, uma adolescente que faz amizade com um jovem guerreiro chamado Arthur e está destinada a se tornar A Dama do Lago. A série reimagina a lenda arturiana e combinará uma história de amadurecimento com temas religiosos e de guerra. A série será estrelada por Katherine Langford como protagonista, com Devon Terrell como Arthur e Gustaf Skarsgard como Merlin.