Doctor Who é uma das séries mais longínquas da história da TV. Muitos atores passaram por ela, e muitos atores consideram uma honra serem convidados. Mas com um tempo cada ator que interpretou o doutor tem seus motivos para deixar o papel e seguir em frente por mais que seja doloroso para os fãs de cada encarnação.
1. William Hartnell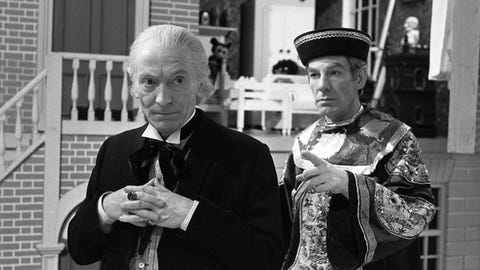 Embora Hartnell quisesse permanecer no papel que era amado por milhões e ajudara a criar um enorme sucesso para a BBC, problemas de saúde tiveram um papel importante em sua saída.
O ator, que tinha cinquenta e poucos anos na época, estava cada vez mais instável quando sua saúde declinava, levando-o a esquecer as falas e exigir que as cenas fossem filmadas novamente. Os produtores deram o passo dramático e sem precedentes (e sem mencionar o histórico) de substituir seu ator principal.
2. Patrick Troughton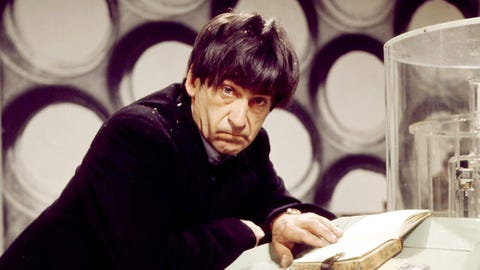 Bem simples aqui. Troughton, já um rosto / voz muito familiar no Reino Unido, assumiu o papel na condição de que esse fosse uma série de três anos. Ele também comentou o fato de que, como ator, ele não queria ser tipificado.
3. Jon Pertwee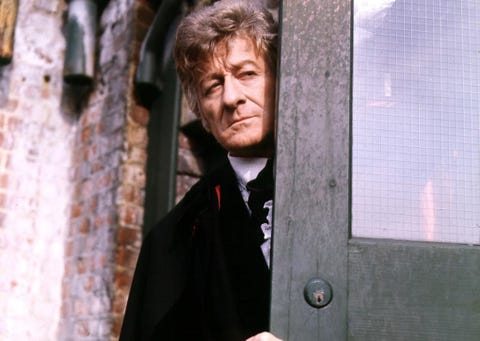 Pertwee declarou publicamente que a equipe do Doctor Who estava terminando: Robert Delgado (O Mestre) havia morrido e Katy Manning (companheira Jo Grant) havia saído. No entanto, no mesmo ano (1974), Jon também falou de dores nas costas que o afligiram nas duas últimas temporadas como motivo para desistir.
Elisabeth Sladen, que foi efetivamente a substituta de Manning como Sarah Jane Smith, revelou que Pertwee havia pedido mais dinheiro (não um pedido irracional), mas a BBC não concordou. Assim, ele renunciou ao cargo.
4. Tom Baker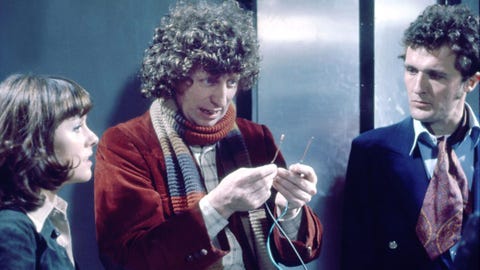 No final de seu mandato na TARDIS, Baker não era – ele admitiu – um homem fácil de trabalhar. Ele lutou com diretores, escritores e, crucialmente, produtores e está muito feliz em confessar sua natureza difícil.
Em várias ocasiões, Tom disse que entregou seu "aviso" no final de cada ano, mas foi convocado a permanecer como doutor (o mais popular até então na época). Mas quando o produtor John Nathan-Turner apareceu, as atitudes mudaram. JNT, como é conhecido carinhosamente, queria trazer o show para a década futurista que foi os anos 80. Logo depois o ator saiu
5. Peter Davison
Talvez uma das razões mais claras aqui. Davison seguiu o conselho de Troughton de não ficar mais de três anos, apesar do produtor John Nathan-Turner pedir para ele ficar.
Ele disse, no entanto: "Era muito exigente, então eu estava cansado demais para me sentir triste quando tudo acabou". Ao longo dos anos, Davison se arrependeu de não ter feito uma quarta temporada na TARDIS devido ao aumento da qualidade dos roteiros durante sua terceira e última temporada (com clássicos como sua canção de cisne, 'The Caves of Androzani').
6. Colin Baker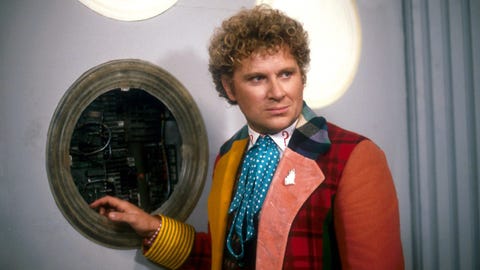 Embora Colin tenha dito uma vez que queria bater o recorde de Tom no papel, ele acabou sendo o Doctor pelo menor tempo até hoje.
Seu tempo na TARDIS foi difícil: sua segunda temporada, apropriadamente chamada de O Julgamento de um Senhor do Tempo , foi atrasada e os fãs sentiram que o cancelamento estava próximo.
Seu contrato não foi renovado, embora ele tenha sido convidado a voltar por quatro episódios na temporada seguinte para sua história de regeneração. O ator, talvez com razão, sentiu-se mais do que um pouco ofendido e recusou os planos da BBC: "Eu disse a eles o que eles poderiam fazer com a oferta".
7. Sylvester McCoy
Outro candidato que afirma ter sido mal tratado.Doctor Who , como sabemos agora, chegou ao fim em 1989, mas o show não foi oficialmente cancelado em nenhum momento.
McCoy muitas vezes lamentou o descado da BBC, uma vez que ele e sua companheira Ace (Sophie Aldred) estavam apenas alcançando o ritmo. Portanto, essa entrada é uma singularidade: ele não foi embora e não foi demitido (como tal). McCoy fez um retorno glorioso para o filme de 1996 na TV, onde entregou as chaves da TARDIS a Paul McGann.
8.Paul McGann
Paul McGann é o doutor mais azarado, só teve a chance de um filme, que não é digno de Doctor Who. O ator não foi chamado para uma minissérie após o fracasso do filme. McGann foi recompensado anos depois no curta-preludio de The Day of The Doctor, e algumas aventuras nos audios da Big Finish. Um doutor que seria fenomenal se tivesse sido bem explorado. Uma pena.
9. Christopher Eccleston
Podemos nunca saber exatamente o que aconteceu aqui. Doctor Who retornou à televisão em 2005 com Eccleston como o nono doutor e Billie Piper como sua companion Rose. Mas, os whovianos de todo o mundo foram atingidos em sua essência quando foi anunciado que seu novo médico sairia no final da temporada.
Enquanto o showrunner Russell T. Davies afirmou que o plano era sempre ter a regeneração, comentários recentes de Christopher Eccleston sugeriram que ele próprio deixasse o programa. Ele diz que o relacionamento com Russell e os produtores (que incluíam Julie Gardner, Mal Young e Phil Collinson) quebrou "irreparavelmente" no início das filmagens e "nunca se recuperou".
Eccleston acrescentou: "Eles perderam a confiança em mim e eu perdi a fé, a confiança e a crença neles".
10. David Tennant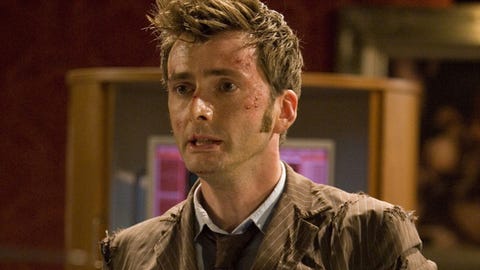 Tennant anunciou espetacularmente sua decisão de deixar Doctor Who ao vivo na ITV durante o National Television Awards em 2008.
Decidindo seguir em frente depois de fazer o papel, o ator escocês não quis "atrasar" suas boas-vindas, dizendo: "Seria muito fácil se agarrar ao console da TARDIS para sempre e temo que, se não o fizer, respire fundo e tome a decisão de seguir em frente agora, então simplesmente nunca irei "
De acordo com Russell T. Davies, David teve uma "oscilação" e pensou seriamente em permanecer como o Senhor do Tempo, e foi cogitado até um spin off com Billie Piper com o Doutor Meta-crise interpretado pelo mesmo. Tanto que ele se encontrou com Steven Moffat para discutir seus planos , no entanto, no final, pegou suas armas e pendurou sua chave de fenda sônica.
11. Matt Smith
Quando você tem que ir, você tem que ir!" Matt declarou em sua declaração oficial de saída em 2013. Mais tarde naquele ano, a estrela do The Crown comentou: "Eu teria feito mais um ano", acrescentando "para mim, parecia o momento certo para seguir em frente".
Como Davison antes dele, Smith declarou publicamente que lamenta deixar o papel tão cedo, pois queria fazer uma temporada completa com a co-estrela Jenna Coleman (Clara). Steven Moffat também afirmou que ela originalmente planejava sair ao mesmo tempo que Matt.
12. Peter Capaldi
Em uma entrevista emocionante na BBC Radio 2, Peter Capaldi anunciou que estava deixando o programa . O décimo segundo doutor disse que era "o momento certo para seguir em frente".
Mais tarde, no mesmo ano, Capaldi revelou sua própria dúvida sobre desempenhar o papel por mais tempo. Ele comentou: "Quero sempre dar o meu melhor e não acho que, se eu continuasse, seria capaz de fazer isso. Não consigo pensar em outra maneira de dizer: 'Isso pode ser o fim de civilização como a conhecemos '. "
O ator do Thick of It também sugeriu que a complacência também pode ter sido um fator , acrescentando: "Eu realmente nunca quis chegar a um lugar onde soubesse fazer isso, porque não é isso que é ser criativo. A quantidade real de tempo que estavam gastando no programa, eu percebi que estava pegando o jeito. E isso me deixou assustado ".
Adaptação: Digitalspy