Aviso – Este artigo contém spoilers para o "Episódio 8" de  WandaVision . 
Depois de existir no MCU por quase sete anos, Wanda Maximoff finalmente recebeu o título de "The Scarlet Witch". E mesmo que os fãs soubessem que havia uma grande possibilidade de que isso aconteceria, a forma como tudo aconteceu foi chocante, para dizer o mínimo. Mas há uma semelhança assustadora com uma história clássica de X-Men com a qual o público se tornou incrivelmente familiarizado ao longo dos anos. 
No episódio 8 de  WandaVision,  vimos que Agatha Harkness é na verdade uma bruxa incrivelmente poderosa que está nas sombras desde os julgamentos das bruxas de Salem. A ex-vizinha intrometida mostra imediatamente que ela é incrivelmente bem versada nas formas de bruxaria e possui imenso conhecimento do funcionamento interno da magia no MCU. É por isso que é tão chocante quando ela percebe quem Wanda realmente é. 
"Você deveria ser um mito. Um ser capaz de criação espontânea. E aqui está você."

"Seus filhos, visão, toda essa vidinha que você fez. Isso é a magia do caos, Wanda. E isso faz de você, a bruxa escarlate. "
E embora ainda sejam desconhecidos os detalhes do que esse título significa na tradição de bruxaria no MCU, está implícito que Wanda é a personificação de uma força negra que tem sido temida ao longo da história. 
Esta é uma torção MCU vintage em uma propriedade clássica de quadrinhos que ninguém previu, mas traça alguns paralelos com a saga Dark Phoenix. Essa história foi adaptada duas vezes na franquia X-Men da FOX nas últimas duas décadas e enfrentou críticas de execução. Aqui está uma olhada nas semelhanças e diferenças entre Jean Gray da FOX e Wanda Maximoff do MCU. 
FOX-MEN DARK PHOENIX, PARTE 2
Então, à luz de uma tentativa sub-par em Dark Phoenix na trilogia original, Brian Singer e companhia decidiram tentar novamente após o reinício suave da franquia que ocorreu em  Days of Futures Past. A versão de Jean Grey de Sophie Turner ofereceu mais profundidade para a construção do evento em  X-Men: Apocalypse  com dicas de seus poderes serem instáveis ​​junto com um verdadeiro momento de Fênix perto do final em que o personagem derrota um dos X- Os vilões mais temidos dos homens. 
E enquanto os fãs clamavam para que o Dark Phoenix tivesse seu próprio filme na trilogia original, eles realizaram seu desejo no Dark Phoenix de 2019  .  Desta vez, eles se inclinaram para o ângulo da missão espacial quando Jean Grey é encontrada pela Força Fênix cósmica no início do filme, e é rapidamente transformada em um ser perigoso, antes de se sacrificar no final do filme. 
Esta tentativa ouviu as críticas da primeira vez, mas ainda encontrou reação devido a uma sensação avassaladora de que a transformação não foi conquistada pelo personagem de Jean Grey. Embora alguém possa argumentar que o momento da Fênix em  Apocalipse  cobriu esse passo em falso, é difícil para os fãs de quadrinhos ficarem atrás de uma Fênix Negra que não concretiza a luta de Jean Grey em usar esse poder para o bem ou para o mal. 
A Feiticeira Escarlate  se manifesta
Então, The Dark Phoenix se resume a um herói poderoso, com habilidades misteriosas, assumindo o manto de uma força negra que está destinada a ser um perigo para ela e os outros. Wanda Maximoff no MCU atende aos critérios de um herói poderoso. Ela também está envolta em mistério após os eventos de  WandaVision  indo para o Episódio 8. E outro paralelo que pode ser traçado entre Wanda e a tradição de Jean Grey é aquele trauma e sofrimento que aparentemente abastecem seus poderes de maneiras imprevisíveis.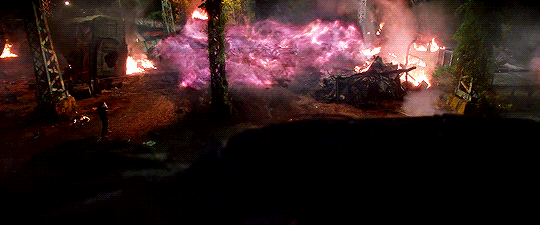 Agora que os fãs sabem que o título de "Feiticeira Escarlate" de Wanda tem mais uma história de fundo profética do que nos quadrinhos, é difícil ignorar como a Marvel Studios está trilhando o mesmo caminho que The Dark Phoenix Saga. A maior diferença está na execução. Wanda é membro do MCU desde 2014, e o público passou a conhecer seus poderes, seu passado e suas motivações em cinco filmes e na maior parte de uma série Disney +. 
Isso torna a revelação do incrível poder de Wanda e os perigos que vêm com ele muito mais satisfatórios. Quando a história de The Scarlet Witch for revelada, espera-se que a jornada de Wanda no MCU reflita a tradição que vem com esse título. Algo FOX-Men falhou não em uma, mas em duas tentativas de trilogia. 
SUPER HERÓINAS 
Isso não quer dizer que Wanda Maximoff substituirá Jean Grey no MCU. Isso nem mesmo significa que The Dark Phoenix Saga não terá uma terceira tentativa, desta vez sob a supervisão de Kevin Feige. Mas isso apenas mostra a masterclass na narrativa que o MCU provou executar e continua a executar no primeiro projeto da Fase 4.
Fonte: The Diret