Os X-Men é a equipe mais popular da Marvel de longe, mas sabemos que os famosos Wolverine, Ciclope, Jean, Tempestade, Vampira e outros são os mais utilizados em rodizio nas revistas.  Os 15 mutantes abaixo  estão cheios de potencial inexplorado e devem estar no radar de qualquer roteirista no futuro. E como o fandom de X-Men é notoriamente apaixonado. Confira:
Anole
Um tema recorrente em toda esta lista é que os criadores adoram deixar sua marca na franquia X-Men, apresentando novos jovens mutantes, poucos dos quais tiveram a chance de se graduar para o status de equipe completa. Os mais azarados acabam ficando quase dois metros abaixo quando novos escritores precisam estabelecer um vilão – RIP Skin, a maioria dos Hellions originais e uma grande parte da Academia X mas muitos simplesmente se tornam preenchimento de fundo, como é normalmente o caso de Anole. Na verdade, Anole estava programado para cometer suicídio depois de se apresentar para ensinar aos seus colegas heterossexuais uma lição sobre tolerância, mas essa trama lamentavelmente mal concebida (felizmente) nunca aconteceu, e Anole é tipicamente retratado como um adolescente gay bem ajustado com fortes amizades entre colegas como o Rockslide e seu companheiro mutante Graymalkin. Apesar de sua aparência reptiliana, camuflagem sorrateira e poderosas habilidades de regeneração, Anole raramente consegue mais do que algumas linhas em cenas de multidão. 
Cecilia Reys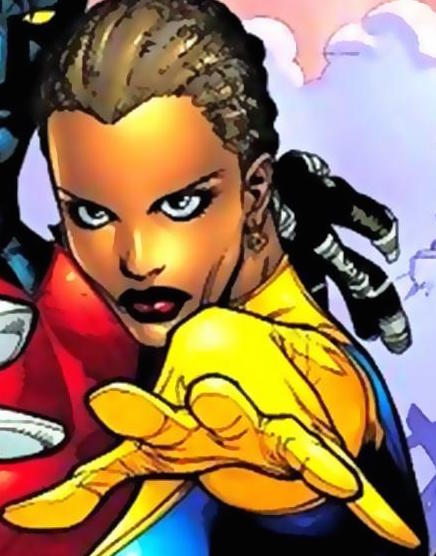 Cecilia Reyes Arte de Leinil Francis Yu A
Dra. Cecilia Reyes sempre ocupou um lugar incomum na franquia, inicialmente resistindo à oferta de se juntar aos X-Men e nunca realmente escolhendo um codinome ou fantasia além do padrão azul e dourado . Para a Dra. Reyes, sua habilidade mutante de gerar campos de força é menos importante do que sua vocação como cirurgiã de traumas, e suas passagens irregulares nos livros-X muitas vezes dependem de sua experiência médica, não de suas habilidades de combate. Dr. Reyes está programado para aparecer no próximo filme inspirado em terror, New Mutants (potencialmente em um papel de antagonista, já que ela trabalha para a instalação médica que abriga os Novos Mutantes), o que torna 2018 o momento perfeito para reconsiderar seu lugar no mundo mutante. Com os X-Men quase assumindo que o objetivo final para jovens mutantes é se juntar a uma força de ataque paramilitar, a perspectiva de um adulto bem-sucedido que não rejeita seus dons – mas ainda encontra uma vocação fora da batalha – complementaria muito bem o bilhões de outros mutantes que passam suas horas de folga treinando para destruir Sentinelas.
Chamber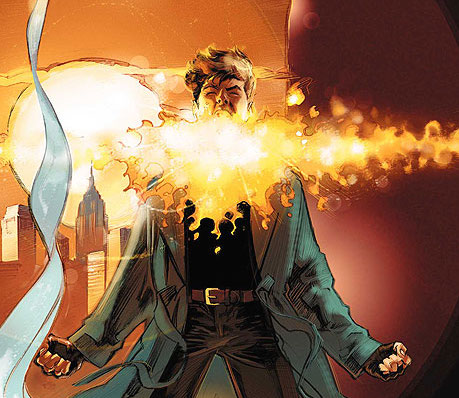 Arte de câmara por Stuart Immomen
Christina Strain, Amilcar Pinna e uma série de artistas convidados ressuscitaram cuidadosamente o elenco da velha geração da Geração X enquanto montavam uma nova equipe mutante adolescente excêntrica na recém-concluídasérie Geração X , e Jonothan Starsmore, mais conhecido como Câmara, silenciosamente obteve um dos melhores arcos do livro. A série original da Geração X posicionou o mutante britânico temperamental para a grandeza, sobrecarregando-o com uma mutação que destruiu sua parte superior do tórax e mandíbula de uma forma que ecoava a própria luta do líder da equipe original, Ciclope, apenas discado até 11. Como muitos adolescentes mutantes , Chamber nunca conseguiu "graduar-se" para um time principal, embora tenha se tornado um pilar da escola, ajudando alunos que lutam com poderes traumáticos. Em Geração X Chamber está confiante e autoritário (com forte apelo de pai, dada sua crescente relação com a mãe adotiva Jubileu), sugerindo o potencial inexplorado que ele deve conseguir um lugar em um grande esquadrão X.
Cifra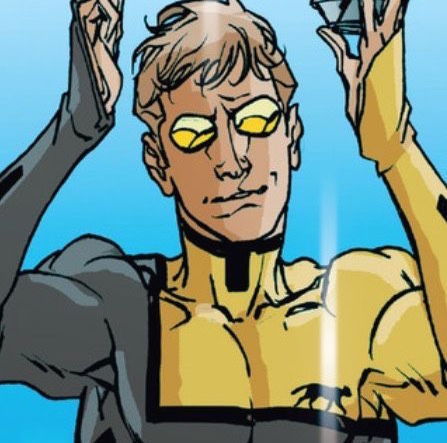 Cypher Art de Carmine Di Giandomenico
Pobre Douglas Ramsey tem sido continuamente ridicularizado desde sua estreia em 1984, em grande parte graças à sua habilidade mutante não ofensiva de entender qualquer linguagem escrita ou falada. Escritores espertos usaram isso com grande efeito, especialmente quando Cypher se tornou mais envolvido com a robusta comunidade de robôs da Marvel, mas o fandom em geral parece relegar Cypher à lista C, a menos que ele se junte a seu amigo alienígena Warlock. Em sua última aparição importante, Cypher acabou fisicamente envolvido com a manifestação consciente da Sala de Perigo dos X-Men, tornando-os um candidato ao mais estranho envolvimento romântico dos X-Men (uma categoria difícil, considerando a franquia). Embora seja ótimo comandar o clima ou atravessar paredes, adoraríamos ver os criadores se esforçando ao máximo para utilizar o conjunto de energia adaptável de Doug.
Darwin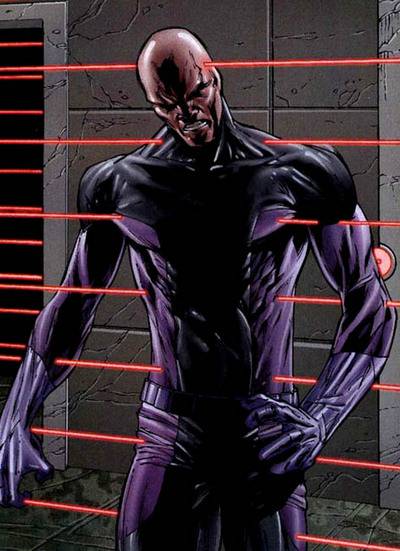 Darwin Art por Trevor Hairsine
Darwin passou por uma fase difícil . Apresentado pela primeira vez em X-Men: Deadly Genesis como parte de uma segunda equipe retroativa e controversa de X-Men, Darwin tem o poder de "evolução adaptativa", o que significa que seu corpo responde ao perigo para protegê-lo: jogue-o na água, ele vai crescer guelras, jogá-lo no fogo, sua pele vai endurecer, e assim por diante. Portanto, foi uma grande confusão quando ele apareceu no filme X-Men: First Class de 2011, explicou sua quase invulnerabilidade … e foi imediatamente morto por Kevin Bacon. O Comic Darwin conseguiu um segundo ato bastante apreciado nas páginas do X-Factor de Peter David, mas o mutante infinitamente flexível raramente foi visto desde a conclusão dessa série em 2012. É difícil fazer pior por Darwin do que o que aconteceu na Primeira Classe , mas deixar esse mutante complexo sentar no banco é um crime contínuo.
DUST
Apresentada pela primeira vez nas páginas da corrida histórica de Grant Morrison em New X-Men , Sooraya Qadir é uma jovem muçulmana afegã com a capacidade de se transformar em uma nuvem de areia rodopiante. Embora ela tenha compartilhado uma boa parte dos holofotes notítulo New X-Men: Academy X focado em adolescentes, Dust, como tantos outros jovens X-Men, apareceu principalmente em segundo plano na última década. Como um muçulmano tradicional que escolhe usar um abaya e niqab, Dust tem o potencial de dar corpo a uma população raramente representada em quadrinhos – e fazer isso utilizando uma habilidade mutante visualmente espetacular.
Estrela de Fogo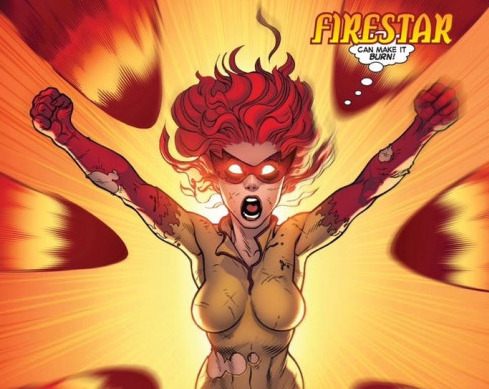 Firestar Art por Ed McGuinness
Não é incomum para os X-Men fazerem a transição para outras equipes de super-heróis: Besta, Sunspot, Cannonball e Wolverine são todos Vingadores consagrados; Angel e Iceman correram com os Defenders; e o jovem Scott Summers trouxe seu truque de pau na lama para os campeões adolescentes. É muito mais raro para um herói mudar para outra direção, e Angelica "Firestar" Jones passou um tempo como Hellion, um Novo Guerreiro, um Vingador, uma Jovem Allie e um dos Amazing Friends do Homem-Aranha antes de Jason Aaron e Ed McGuinness serem recrutados o mutante movido a micro-ondas para sua curta duração no Amazing X-Men. Firestar é notável não apenas como um herói experiente, mas como um sobrevivente do câncer e estudante de graduação, provando mais uma vez que os personagens mutantes podem ter uma vida plena fora das travessuras da viagem no tempo. Firestar recentemente apareceu brevemente em X-Men Blue , mas com tantas participações em equipes, Angelica Jones merece uma chance maior de se estabelecer entre os heróis mutantes da Marvel.
---
Frenesi
Frenzy pode ser um dos únicos mutantes que se beneficiaram do período de tempo que antecedeu Inhumans vs. X-Men. Apresentada pela primeira vez como uma mercenária mutante e depois como uma Noviça de Magneto, Joanna Cargill é sobre-humana forte e durável – e ela não aceita merda nenhuma. Sua infância abusiva e seu caminho difícil para se tornar um X-Man a tornam uma defensora mutante dedicada, mas uma pessoa desinteressada em sutilezas diplomáticas ou em salvar a face. Quando as nuvens terrígenas cobriram o planeta, envenenando muitos mutantes, Frenzy se aliou ao herói Inumano Cristal, renunciando à crescente divisão Inumana / mutante para salvar vidas necessitadas. Frenzy também opera na sombra de seu período de realidade alternativa "Age of X", onde ela acordou casada com Scott Summers com o total respeito de seus colegas. Enquanto a maioria dos X-Men escolheu receber uma limpeza mental voluntária após essa experiência, Cargill manteve suas memórias como uma inspiração contínua para superar seu passado conturbado.
MEDULA
Marrow vem de um dos períodos menos populares da história dos X-Men, após o boom do início dos anos 90, mas antes do revival de Morrison, e seus anos mais recentes viram alguns altos e baixos dramáticos. Medula, cujo nome real só foi revelado como Sarah, está entre os incontáveis ​​mutantes que perderam suas habilidades durante o Dia M, mas acorrida do X-Force 2014devolveu suas habilidades de crescimento e arremesso de ossos com a ajuda de um louco geneticista. A medula mostra uma persona fraturada durante a corrida, que eventualmente é revelada como resultado da perda de sua gravidez em troca de recuperar alguma aparência de seus poderes. Isso é pesadotorção para qualquer personagem, e infelizmente o livro nunca realmente justificou esse enredo. Marrow, desde então, apareceu como personagem de fundo em X-Men Blue e em um Império Secreto , mas a personagem sofredora precisa de uma corrida que finalmente dê a ela o foco e o desenvolvimento de personagem que ela falta desde sua criação.
Estrela Polar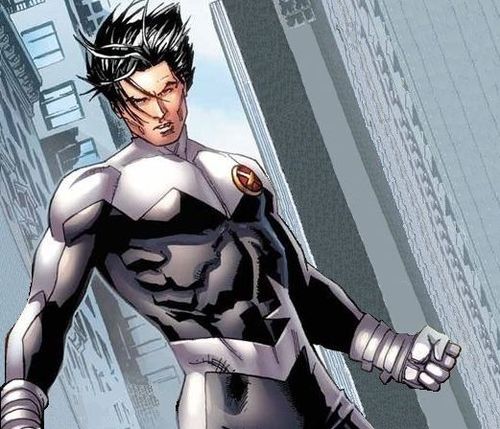 Arte Northstar de Dustin Weaver
Enquanto a maior tendência nesta lista é "Abandoned Teen", "Abandoned Queer" está em segundo lugar. Northstar terá para sempre um lugar de importância nos quadrinhos por seu lançamento dramático e inovador em 1992, mas apesar do aumento da grande imprensa em torno desse evento e do eventual casamento de Northstar em 2012, Jean-Paul Beaubier serviu apenas intermitentemente nos X-Men apropriado. Além de sua importância como um pioneiro gay, Northstar é um dos poucos velocistas do Universo Marvel – e um idiota totalmente adorável, o que é uma grande parte de seu apelo. Northstar merece mais do que uma aparição faminta por publicidade a cada poucos anos, e esperamos vê-lo recuperar a proeminência mutante antes que a Marvel comece a divulgar o primeiro divórcio gay nos quadrinhos convencionais.
Oya
O problema com os ajudantes adolescentes de Wolverine é que todo escritor quer atribuir um novo, daí a transferência de Kitty Pryde para Jubileu, Jubileu para Pixie e Armor e, finalmente, Pixie e Armor para Oya, comumente referido apenas por seu nome real , Idie Okonkwo. Idie, como um personagem mais tarde nesta lista, foi apresentado como um membro das "Cinco Luzes", as primeiras novas manifestações mutantes depois que a Bruxa Escarlate eliminou a maior parte do gene X do mundo. Descoberta na Nigéria, Idie inicialmente serve como uma tempestade de espelho rachado: uma jovem africana com poderes sobre os elementos que é envergonhada, não adorada, por seu poder. Graças ao seu tempo com Wolverine e sua escola Jean Grey, Idie cresceu e se tornou uma jovem mutante muito mais confiante, mesmo rejeitando os avanços do infame X-pirralho Quentin Quire. Infelizmente, Generation X  espero que a Marvel tenha planos para outro título definido pela escola no horizonte – um com espaço para jovens bem desenvolvidos como Idie.
Prodígio
Prodigy mudou bastante desde que perdeu suas habilidades mutantes durante o M-Day, aparecendo em Young Avengers , Ant-Man e, mais recentemente, New Mutants: Dead Souls como um funcionário da corporação Karma. Foi nas páginas de Young Avengers que Prodigy, nome verdadeiro David Alleyne, saiu como bissexual, tornando-o um dos únicos homens bissexuais nos quadrinhos convencionais, mas esse título infelizmente terminou sem explorar totalmente sua subtrama. Junto com Danielle Moonstar, Prodigy é um dos ex-mutantes mais proeminentes e populares ainda associados aos X-Men, e essa dinâmica implora para ser mais explorada.
Siryn
Apesar de toda a épica execução de Peter David no X-Factor ter ajudado a impulsionar mutantes como M, Shatterstar, Rictor, Wolfsbane, Madrox e outros, sua conclusão deixou Theresa "Siryn" Cassidy em um estranholocal. Com exceção do papel de Danielle Moonstar como uma Valquíria nórdica, mutantes e magia raramente se misturam, e a transformação de Siryn em uma deusa celta conhecida como Morrigan foi tão difícil de manejar e indesejável que ninguém realmente abordou o personagem nos seis anos desde então. O pai de Siryn, Banshee, também foi marginalizado desde que voltou como um Cavaleiro da Morte, deixando uma lacuna de poder sonoro na alegre franquia mutante da Marvel. Embora adoraríamos ver Banshee sacudir sua pele azul e desejo pelo Armagedom, sua filha Siryn o ultrapassa por merecer uma volta de sua fase gótica estranha.
Sunfire
Shiro Yoshida é talvez o X-Man original subestimado e subutilizado, aparecendo brevemente na equipe em seus primeiros dias antes de ser relegado a um papel especial sempre que um herói da Marvel viajava para o Japão. Uma transformação visualmente interessante na linha do tempo de Age of Apocalypse rendeu a ele um pequeno fandom, mas os últimos 20 anos raramente foram gentis com Sunfire. Ele brevemente pareceu se tornar o líder do Big Hero 6 do Japão, mas a encantadora adaptação para o cinema da Disney existe fora da continuidade da Marvel e resultou no desaparecimento silencioso da versão cômica da equipe. Ele então perdeu as pernas e brevemente caiu sob o domínio do Apocalipse antes que o escritor Rick Remender o trouxesse de volta no famoso Uncanny Avengers– mas só depois de caracterizá-lo como um fracassado bêbado e desgrenhado em seu país de origem. Shiro se tornou uma parte fundamental desse título cruzado X-Men / Avengers, sacrificando heroicamente seu corpo para se tornar pura energia (que parecia exatamente com seu visual AoA favorito dos fãs ), mas infelizmente ele não continuou com a equipe depois A saída de Remender da Marvel Comics e se tornou outro membro dedicado da multidão em títulos como Extraordinary X-Men . Junto com Banshee (e Thunderbird, cujo legado vive em Warpath), Sunfire é um dos primeiros personagens X-Men mais subutilizados, e ainda está esperando por sua chance de realmente brilhar.
Velocidad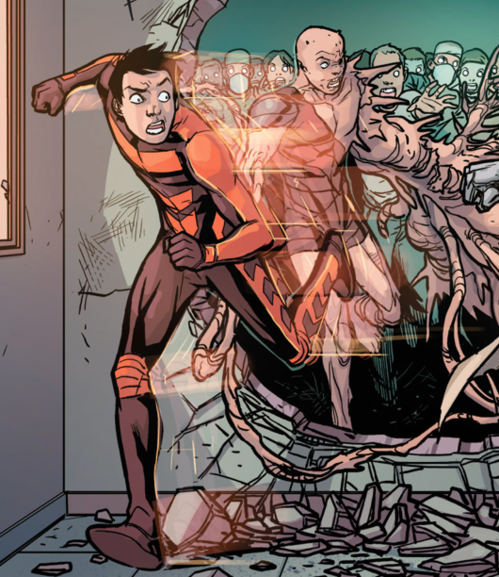 Velocidad Arte de Salvador Espin
Membro dos Five Lights ao lado de Idie Okonkwo, Velocidad é reconhecidamente um dos personagens menos desenvolvidos desta lista, o que o torna ainda mais emblemático de "personagens de estimação" que desaparecem na obscuridade quando seus criadores iniciais deixam os X-Men títulos. Fellow Lights Transonic e Primal são igualmente esquecidos, mas Velocidad tinha o maior potencial narrativo. Além de suas paixões pelas populares mutantes Hope e Pixie, este mutante mexicano tem um poder degenerativo: toda vez que ele usa sua manipulação de tempo localizada, Velocidad efetivamente possui supervelocidade, mas ele envelhece muito mais rapidamente do que aqueles ao seu redor. Este tipo de trágico catch-22 power é um tropo favorito dos livros dos X-Men, o que torna ainda mais decepcionante que Velocidad tenha sido esquecido oito anos após ser apresentado em uma das melhores novas esperanças dos mutantes.
Fonte: PM