Tales from the Loop, é uma série original do Prime Video criada por Nathaniel Halpern com base no trabalho de Simon Stålenhag.
Os amantes de ficção científica clássica amarão logo de cara, pois, além disso, ela tem o roteiro da pessoa cujas histórias e desenhos serviram de base para sua criação. Cada episódio tem um diretor diferente, entre os quais Jodie Foster, Ti West ou Kim So Yong , dirigem de maneira completamente diferente, mas com um eixo comum: uma cidade misteriosa sob a qual uma máquina foi construída que torna o impossível possível. O lugar, onde muitos cientistas e técnicos trabalham, é chamado de "laço" e seu coração é "o eclipse", uma enorme esfera feita de material incrível que governa o destino de toda a população.
As pessoas coexistem com as máquinas criadas naquele local, que têm capacidades variadas e completamente imprevisíveis: desde a troca de consciência entre os corpos até a interrupção ou aceleração do tempo, além de permitir o acesso a realidades paralelas ou saber quanto tempo será a vida daqueles que a consultam.
A primeira das histórias é precedida por uma breve explicação de Russ ( Jonathan Pryce ), um dos personagens mais importantes e enigmáticos que conheceremos, que nos adverte de que estão todos interconectados.
Existem vários pontos fortes em Stories of the Loop que devem ser reconhecidos desde o início e que tornam essa antologia interconectada uma obra-prima preciosa.O primeiro deles é a maravilhosa trilha sonora composta por Paul Leonard-Morgan, na qual o piano desempenha um papel de liderança (e que pode trazer muitos à sua mente a maravilhosa "The Departure", de Max Ritcher, composta por outra série essencial : The Leftovers ) e a segunda, a produção impecável que tem dois poderosos aliados: um design cuidadoso de produção e uma direção artística requintada que conseguiu ler as ilustrações de Simon Stålenhag (que trabalha como roteirista) para torná-las vivas.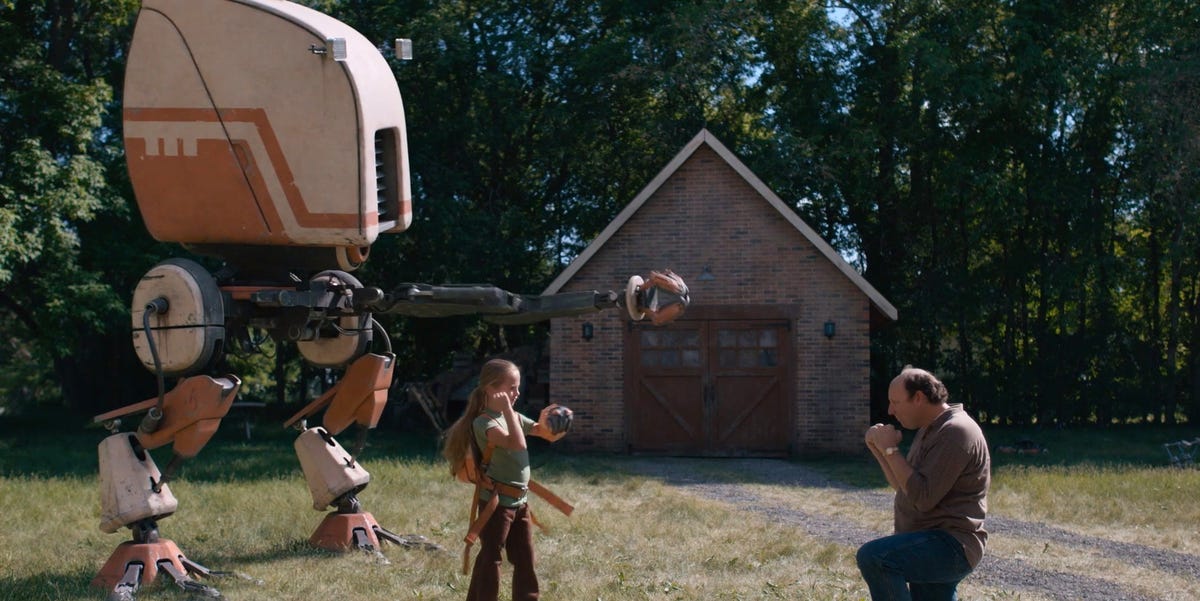 Um dos aspectos mais impressionantes é que o Tales from the Loop gera muitas perguntas, mas gera menos respostas. Não se preocupe, não é uma série confusa, mas sim uma distopia que usa o gênero (ficção científica e às vezes até o terror mais clássico) para refletir sobre a alma humana, o que nos define e nos integra, o que que ansiamos e o que definimos como lar.
A tudo isso, devemos acrescentar o uso que damos à tecnologia, e é por isso que é fácil para esta série encaminhá-lo a outras pessoas, como Dark ou alguns episódios de Black Mirror . Há um outro lado sinistro em realizar nossos sonhos, por isso é melhor ter cuidado com o que você deseja. Pode parecer uma ótima idéia viver o momento, mas é efêmero por uma razão: porque a vida evolui e é mutável.
A série nunca escolhe nos seguir por caminhos já trilhados no mundo da ficção científica e até é capaz de retomar alguns motivos tardios da literatura e do mundo audiovisual como o doppelgänger sem levá-lo ao terreno do sinistro. O cenário, o design da produção, a direção artística, a abordagem filosófica subjacente a cada roteiro e como ele se aproxima da ficção científica.
São abundantes imagens chocantes, nas quais a simetria e os planos longo e fixos são responsáveis ​​por criar um certo senso de distância e estranheza no espectador, que testemunha alguns eventos que são impossíveis de entender, como a abertura de vórtices espaciais ou a subversão de leis. da física com objetos flutuantes e lugares onde a força da gravidade é revertida.
Todos esses elementos estão a serviço de uma história em que, na realidade, são um pretexto para nos fazer pensar em algo muito mais universal, como a necessidade de um de nossos protagonistas proteger sua família e se sentir seguro. ou o de outro para aceitar e valorizar a si mesmo. Um tema que sobrevoa constantemente a ficção pertence a histórias que nos contam sobre a maternidade ou a outras em que há uma busca selvagem pelo amor perfeito. E a óptica de crianças e adolescentes é frequentemente adotada.
Apesar de mostrar avanços surpreendentes, ele não ocorre no futuro, mas em coordenadas de tempo imprecisas que podem corresponder aos anos 60/70, de tal maneira que ele tem um ar retrô muito forte que lhe dá muito soco. Claramente: Loop Stories é um grande presente este ano, uma série que conseguiu adaptar o romance ilustrado de Simon Stålenhag ao formato de televisão e colocar o mistério com imagens e histórias poderosas, tão íntimas quanto intrigantes.