Steven Moffat teve sua famigerada chance de brilhar em 2010, com a estreia da sua era que durou uns bons anos. Apesar de ter uma boa parcela de fãs, pelos episódios elogiados da era do Russel T Davies, como The Girl in the Fireplace , Blink e Silence in the Library/Forest of The Dead, alguns odeiam ele pelos vícios de plot twits e toda a sua megalomania. Mais sejamos sinceros, foi com episódios como Blink e The 11th Hour que Doctor Who alçou de vez.
A Era do Decimo Primeiro Doutor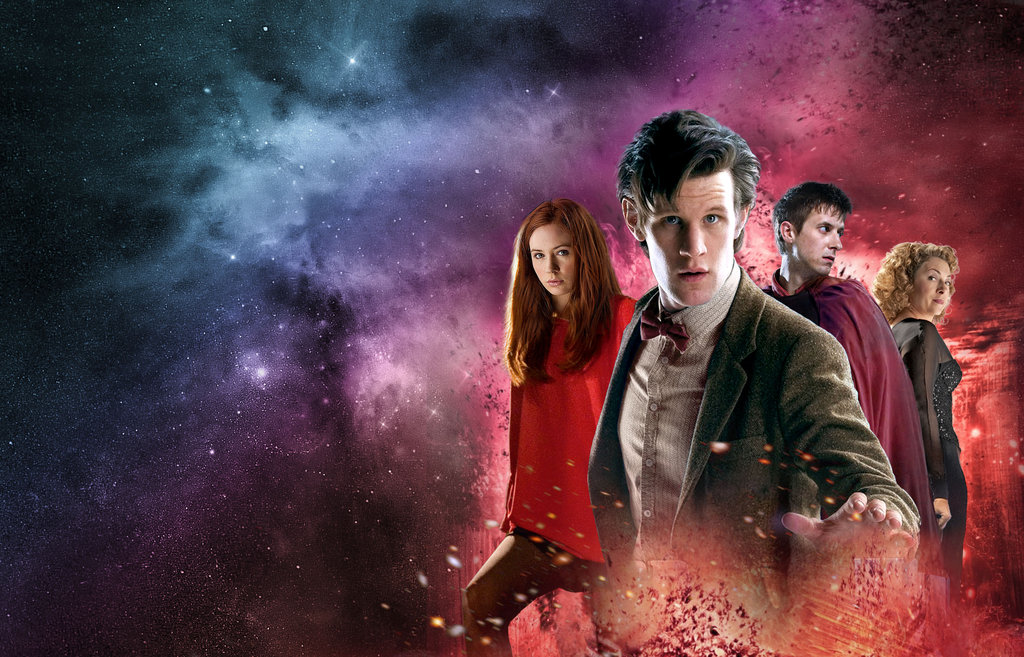 Você nunca encontrará um episódio mais completo da era de Moffat, como a da estréia de Matt Smith como o Doutor , e assistindo "The 11th Hour", você tem a sensação de que o roteirista / produtor estava esperando a vida inteira para esse momento. Moffat criou um cenário louco onde nosso Doutor tinha apenas 20 minutos para salvar o mundo – e sem sua chave sônica ou a TARDIS. The 11th Hour trouxe uma sensação de capricho de conto de fadas; drama e humor equilibrados e um monstro interessante.
A primeira companion dessa era é a Amy Pond, interpretada pela Karen Gillan, uma garota energética, curiosa e até sexy demais para alguns que chegaram a reclamar na época. A a quinta temporada teve o benefício de apresentar um enredo abrangente e ambicioso, baseado em algo incrivelmente simples, mas de alguma forma eficaz. Essa rachadura se tornaria o fio narrativo da quinta, uma história que só aumentaria a cada novo episódio. Tudo levaria ao final de duas partes "The Pandorica Opens" e "The Big Bang", dois episódios que ultrapassaram os limites da série e o escopo de sua mitologia. Diria que essa é a temporada mais sólida de toda era do Moffat.
Já a sexta temporada começa a organização misteriosa "O Silencio". Com alienígenas inéditos no cânone, com conceito muito interessante, você esquece que os viu depois de tirar os olhos deles, tornando-os uma perspectiva muito perigosa e assustadora. O primeiro episódio, "The Impossible Astronaut" e sua segunda parte subsequente, iniciam a trama abrangente com a promessa de que o Doutor morrerá, algo meio batido já que vimos premissa parecida na quarta temporada.Mas que tem lá seus mistérios pois está ligado a River Song, e que também conectam com o seu arco, para sabermos afinal quem é ela afinal. Essa temporada é considerada a mais irregular da era do Decimo Primeiro. Tem ótimos episódios com os dois primeiros iniciais, mas alguns considerado "polêmico" como "Lets Kill Hitler" e episódios chatos como "The God Complex"," The Curse Of The Black Spot". E infelizmente essa temporada acabou de maneira insossa com "The Wedding Of River Song".
A sétima temporada encerra na primeira metade a era dos Ponds na vida do Doutor, para iniciar outra, com uma companion que dividiu o fandom até hoje. Moffat e a BBC tiveram uma decisão de dividir a sétima temporada em duas partes, com o ritmo e o tom mudando drasticamente após um intervalo no meio da temporada. Há uma falta real de qualidade e criatividade em alguns episódios,como "Dinosaurs on a Spaceship" e" The Power of Three". As histórias parecem encerradas muito rapidamente ou terminam muito abruptamente, e tudo parece um pouco desleixado pelo Moffat, a segunda parte no qual somos a apresentados a Clara Oswald (Jenna Coleman), a garota impossível com esse plot que não funcionou tão bem e foi completamente esquecido nas temporadas seguintes.
O que salvou mesmo a sétima temporada foi os fantásticos "The Day of the Doctor" e "The Time of the Doctor" que são praticamente filmes, sendo Day of The Doctor o que foi lançado nos cinemas e foi um tremendo sucesso. Nos trazendo um Doutor desconhecido, o da Guerra interpretado por John Hurt, já falecido e o querido David Tennant o Décimo. Foi um especial daqueles, encerrando bem a era do Matt Smith como Doutor, de maneira muito épica que dificilmente veremos algo do tipo até a próxima comemoração de 100º aniversário da série.
A Era do Decimo Segundo Doutor
A era do Doutor que sou suspeito para falar, o meu favorito até agora. Do Peter Capaldi, é considerada a mais sombria, e mais madura de toda a série até então. Inicialmente ele não impressiona, com o episódio fraco de "Deep Breath", no qual o Doutor está muito confuso, e vemos a desnecessária tentativa de colocar a audiência como olhos da Clara, e vermos a "rejeição" dela (que não faz sentido), para um Doutor mais velho, e que não parece ter certeza mais de quem é, devido ao longo tempo que passou em Trenzalore.
A oitava temporada considero melhor que a sétima, só não superando os dois especiais da temporada passada. O "Into The Dalek" deveria ter sido o primeiro episódio da oitava, nele vemos a sinergia, e a química que a Clara da Jenna e Capaldi possuem. Esse Doutor tem loucura mostrada por Tom Baker e o pavio curto do sexto Doutor do Colin Baker, Capaldi parece que ele poderia ser um Doutor mais interessante na oitava, mas o roteiro e a direção que lhe deram restringiram sua capacidade de realmente mostrar seu talento, em favor da companion Clara. O romance subdesenvolvido com Danny Pink , interpretado pelo ótimo ator Samuel Anderson, que parece forçado e antinatural e eles dominam quase toda a temporada, para ser descartado logo depois, devido a alta rejeição. Um ponto extremamente positivo foi a excelente Missy interpretada pela Michelle Gomez, que rouba a tela, sem esforço, e oferece uma performance impecável ao longo do final e que continua na nona temporada e decima.
Os episódios parecem uma mistura desconexa que não se encaixa de maneira coerente e o tom e o ritmo variam muito, do infantil e bobo como o episódio "Robot of Sherwood" , e maduro e sombrio como foi Into The Dalek já mencionado e "Dark Water" e "Death in Heaven" no final da temporada. Existem episódios fillers muito interessantes como "Flatline", que é um pressagio do que virá a seguir na nona temporada, com o arco da Clara.
A nona temporada que considero excelente, perdendo apenas para a quarta e quinta temporada. Nos trazem uma temporada cheia de histórias interessantes, personagens convincentes e, mais importante, uma identidade e ritmo para o Doutor que faltou muita na oitava. A nova traz uma Clara também mais segura de si, e muito afinada com o decimo segundo Doutor, que começa dividido – ele ajuda o garotinho que conhece o seu, que nada mais é do que Davros ou ele vai para longe? Nos primeiros 5 minutos, já está claro que esta temporada é um programa mais maduro e confiante, que finalmente sabe o que fazer com o ator Peter Capaldi, sendo o episódio "Heaven Sent" o ápice, com diálogos maravilhosos do ator.
Maisie Williams que participou da temporada só apimentou, a personagem Me é muito interessante. E que espero um encontro futuro dela com Capitão Jack, BBC faça acontecer. É com a Me, que Moffat realmente mostra como ele é um bom roteirista, usando sua capacidade de criar uma boa história em 90 minutos, em vez de amontoar suas idéias em 45 minutos que nem sempre fica boa. Nessa temporada nos despedimos de vez, ou não, da garota impossível que podemos dizer, que ganhou um novo título, spoilers, e que os fãs que não gostam dela ficaram bem insatisfeitos.
O especial "The Husbands of River Song", que deveria ter vindo bem antes, talvez fosse melhor que fosse o especial da oitava temporada. Encerra o arco da personagem River Song, que havia sido esquecida por um bom tempo na TV, menos na Big Finish no qual ainda estava tendo suas aventuras com outros doutores. A química entre Alex Kingston e Capaldi explode na tela, os dois se deram muito bem,mais do que com Matt Smith. Uma pena que não tivemos uma temporada dedicada apenas aos dois. Vemos que o marido que a River falou em Forest of The Dead na quarta temporada era de fato o Decimo Segundo. Apesar de uma história meia boca, os atores brilham e seguram bem o especial, encerramento no estilo "conto de fadas".
A era do Moffat encerra na 10ª e sua última temporada, no qual se torna uma espécie de soft reboot. Depois de uma pausa muito necessária, ter retornado com ''The Pilot'' foi uma boa jogada . A nova companion é Bill interpretada pela excelente Pearl Mackie, é a companion perfeita para o decimo segundo, que assume um papel mais avô como um aceno para a série clássica. Bill faz as perguntas que faríamos ao Doutor, reage de maneira muito mais humana, é gente como a gente digamos. E a atriz é muito carismática, não via algo assim desde Donna Noble.
E não poderia deixar de comentar sobre Nardole (Matt Lucas), que traz o equilíbrio perfeito. A 10ª temporada de Doctor Who é uma das melhores da história do programa. O uso inteligente de três personagens no meio da temporada rompe a monotonia dos episódios singulares, permitindo a Moffat tecer sua marca registrada, contando histórias sem complicar demais o resto da temporada. A Missy faz sua despedida, tendo seus momentos mais humanizados, bem desenvolvidos, e finaliza bem o arco dela.Tudo parece novo e empolgante, os episódios de destaques são "Oxygen", "Extremis" e "The Pyramid at the End of the World".
Extra:
Em meio a pandemia que está acontecendo em 2020. Moffat nos trouxe uma história extra que revela o que aconteceu com Amy Pond e Rory Williams após os acontecimento de "The Angels Take Manhattan". Parece que Rory está escrevendo a história de sua vida, incluindo todas as aventuras que ele e Amy tiveram com o doutor.